Apple Store robbed of a million bucks worth of gear
Apple gear is somewhat on the expensive side but most people save up their cash if they wish to purchase an iPhone or some other Apple device. But there are those that prefer to pilfer tech gear so they can sell it on to make a profit rather than having to shell out their own cash. It's the way of the world and no matter what you do there will always be someone ready to rob goods to make a few bucks.
An Apple Store in the Opera District of Paris, France, was recently robbed of a million bucks worth of gear according to a report by the Telegraph, whereby a gang of armed, masked crooks broke into the Apple Store right under the nosed of riot police that were patrolling the Champs Elysées on New Year's Eve.
Apparently these crooks were armed with handguns, and got away with a cool million bucks worth of Apple gear, although French cops wouldn't confirm the total figure as the director of the robbed store was still checking on lost inventory.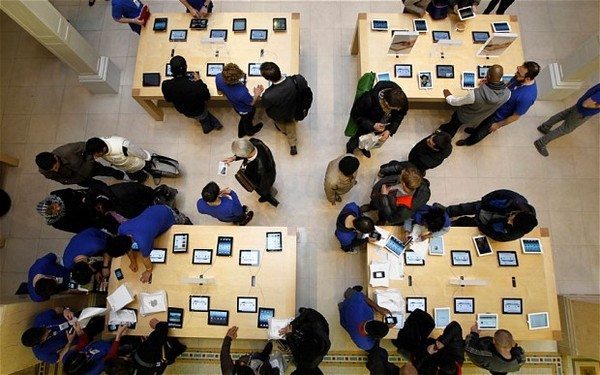 The armed robbers bypassed any iPhone, Apple iPad and Mac units on display and headed straight for the boxed stock, whilst their accomplices waited nearby in a getaway truck, and it is believed that four or five men were involved.
The criminals forces their way into the Apple store via the rear entrance at about 9PM on New Year's Eve, lightly injuring the janitor as he was leaving for the night.
French police union Unsa rep Christopher Crépin, stated that the crooks 'prepared their coup pretty well' and added that it was fairly easy for the crooks to escape with their haul due to large boulevards near the robbed store lead to several different parts of the city.
An unnamed police source told the Telegraph that there was no shortage of security forces in Paris on the night of the robbery because extra riot police were drafted in to patrol the crowd of some 300,000 people who were celebrating the New Year.
It has thus far been estimated that the armed robbers got away with roughly one million Euros, about $1.32 million US, in Apple gear, so if anyone in France is offered a cheaper than usual iPhone 5, or other Apple product be wary that it could be part of this stolen haul.
Would you ask questions if you were offered an Apple device on the cheap or would you simply readily buy a device without any questions?