Samsung GT-I9600 mystery device pops up in benchmark
It would appear that old Sammy hasn't quite finished extending their popular Galaxy range of devices just yet, as a new benchmark seems to indicate that the Korean manufacturer has yet another mystery Android device up their sleeve that could possibly be another Galaxy S device, although it is unclear just what this device could be.
News of this mysterious Samsung device comes our way courtesy of Sammy Hub with the mystery device showing in a NenaMark2 benchmark database, with the device reaching a top score of 58.5 fps. Obviously if you are acquainted with old Sammy's device naming scheme, this device seems to be part of their Galaxy S range of handsets.
There are a few specs revealed by the benchmark, although not much, the Samsung GT-I9600 has a 1280 x 720 pixel resolution touch screen along with Mali-400 MP graphics, a 1.4GHz processor and will run the Android Jelly Bean 4.2 operating system.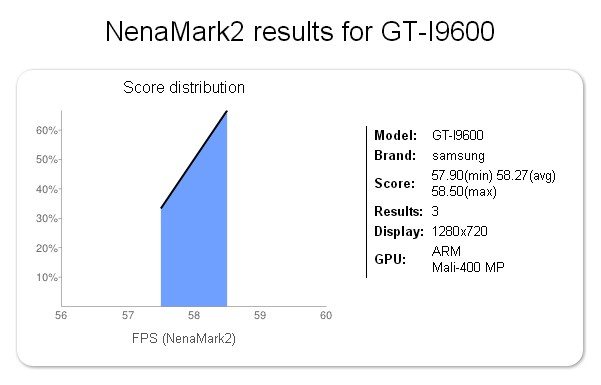 However, there is a possibility that this new benchmarked device might not be real, as those specifications are somewhat similar to the Samsung Galaxy S3, so if the Samsung GT-I9600 is a real device then there is a possibility it could be a Galaxy S3 that is running modified software.
Of course that is simply speculation due to those specs being so close to Sammy's hugely popular flagship smartphone, so this should be treated as rumour until such times as more evidence on the Samsung GT-I9600 surfaces.
Having said that, NenaMark2 results are easily faked so there is a possibility that this GT-I9600 mystery handset doesn't actually exist.
Of course we do know that Sammy is gearing up to deliver the Samsung Galaxy S4, which could possibly be the GT-I9500, so it is obvious the GT-I9600 isn't that handset, so this device remains a bit of a mystery for now.
Any of our Samsung device fans have any suggestions as to what the Samsung GT-I9600 could be if the device is real?