BlackBerry 10 mystery model now with FCC
Last month a BlackBerry 10 smartphone with the number RFF91LW with AT&T GSM and LTE bands was spotted at the Federal Communications Commission (FCC), and it appears that this particular BlackBerry 10 device will not be the only smartphone RIM will be debuting, because another BB10 toting handset is now with the FCC sporting the number RFH121LW.
The BlackBerry 10 RFH121W handset has popped up on the FCC according to a report by RIMarkable, but unfortunately no other details of this mystery BlackBerry 10 smartphone is known, but hopefully come the 30th of this month Research In Motion will deliver the details at their BB10 event.
Apparently this new unknown BlackBerry 10 device is the third handset to hit the FCC to date, and we already know that the first BlackBerry 10 handset will be the BlackBerry Z10, a smartphone that has already been detailed and pictured, and will sport a 4.2-inch 1280 x 768, 356PPi, 15:9 ratio touch screen, an 8 megapixel rear facing camera and 2 megapixel front facing camera.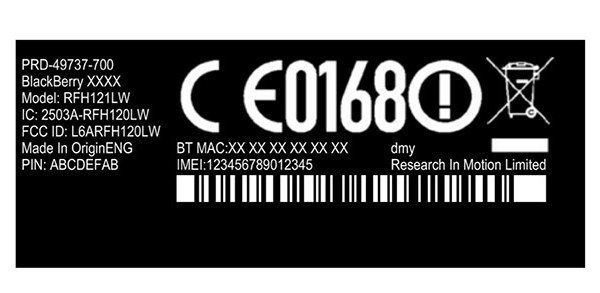 Furthermore it has been reported that Research In Motion also has BlackBerry 10 smartphones with QWERTY keyboard in the works, which are currently being referred to as the BlackBerry X10 and are said to have a taller touch screen than previous BlackBerry handsets.
As for this mystery BlackBerry 10 smartphone, over in the good old US of A, Verizon has stated they would be offering BlackBerry 10 devices, so this mystery model could be the Blackberry Z10 designed to work on the Big Red Network, but that is only a guess of course.
Either way it does seem that Research In Motion is gearing up to deliver the BlackBerry 10 devices they are hoping will be the company's saviour and bring them back to their former standing in the mobile arena, and enough to hopefully take on such rivals at the iPhone and Android devices.
If we hear move details on this BlackBerry 10 RFH121LW model before RIM kicks off their BB10 event at the end of the month we will of course pass it along, if not then we should get all the details during that event.
Are any of our readers excited at RIM delivering BlackBerry 10 handsets soon or do you believe the Canadian company has left it too late to be able to take on rival devices?