Weight Watchers 360 program app for weight loss
No doubt as we enter 2014 there are many out there that have made a new Year's resolution to lose weight and follow a more healthy lifestyle, and for those people on the iOS and Android platforms that use the Weight Watchers Mobile app to make smart food choices and stay in control of their weight, you might like to know that the app has now been given an update that adds brand new interactive tool.
The Weight Watchers Mobile app for iOS and Android enables the user to gain access to such features as the ability to track your food, weight and activity, access your spaces and routines tool, use the snap and track feature to capture and share delicious food moments, and review your weight-loss progress with an interactive chart.
The Weight Watchers Mobile app also offers the ability to browse health and fitness content, locate Weight Watchers meetings in your area, and search in excess of 150,000 foods, recipes and meals.
With the Weight Watchers Mobile app for the iPhone, iPod Touch, Apple iPad and Android devices, these new tools enable the user to tap into the stick-with-it power of the Weight Watchers 360 program any time and anywhere.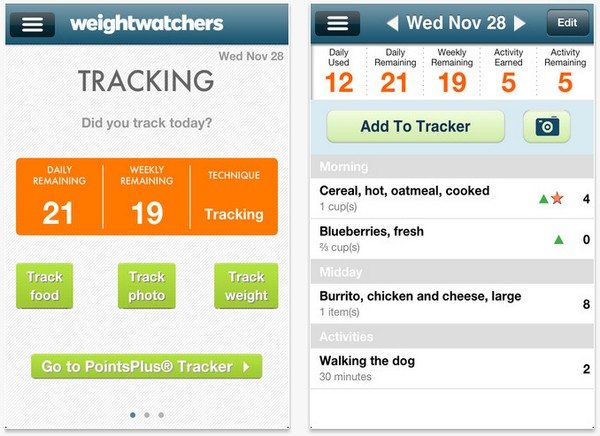 The Weight Watchers 360 program enables you to train your brain by learning new routines and habits so that you will soon find yourself making those healthy choices that let you eat food you love when you wish to and nothing is forbidden.
The update to the Weight Watchers Mobile app for iOS and Android brings several bug fixes along with the ability to use Spaces to gain tips to control your environment such as at home, at the office or in a restaurant, enabling you to turn those trouble spots into comfort zones.
The update also delivers the ability to create new healthy habits with Routines, whereby you can select up to three small but powerful daily tasks, and one you have nailed a Routine you can move onto another one. You can also use your device camera to snap an image of your meal and add it to your PointsPlus Tracker, and share on Twitter, Facebook or the WWCommunity.
For those that are not yet part of the Weight Watchers 360 program we have embedded an introduction video below for your viewing consideration, and for those on the iOS platform you can download the app for free from iTunes, and likewise those on the Android platform can grab the app for free from Google Play.