Acer Iconia B1-A71 tablet vs Nexus 7
Despite previous comments by the late Apple CEO Steve Jobs about seven inch tablet PC devices, this sector of the market has grown significantly in the last few months with an ever increasing range of devices to choose from. Earlier today at the CES 2013 event Acer announced the Iconia B1-A71 tablet, and we are now comparing it to market leader in the seven inch sector, the Nexus 7.
The company has revealed its new seven inch tablet PC that is expected to be launched later this month in India with a price tag that works out at around $150, which then puts the device into the Asus Nexus 7 territory.
Processor and power
The new Acer Iconia B1 uses a Mediatek dual core processor that it's clocked at 1.2GHz that is coupled with only 512MB of RAM, while the popular Nexus 7 uses the Nvidia 3 quad core processor that is also clocked at 1.2GHz, but is used alongside 1GB of RAM.
Display
The Nexus 7 uses a 7-inch display that offers a resolution of 800 x 1280, while the Acer Iconia B has a WSVGA capacitive multitouch screen with 1,024 x 600 resolution display.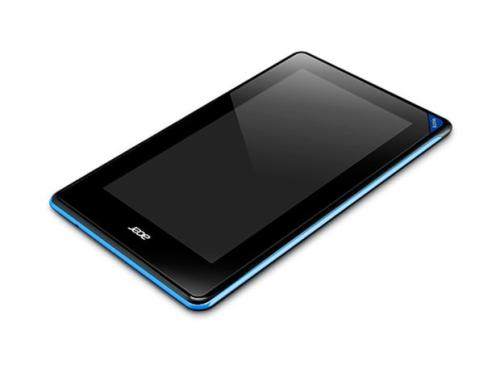 Storage
While the Nexus 7now comes in either 16GB or 32GB storage options with neither models expandable, which compares to the Acer that comes with only 8GB of on board storage but is expandable by a further 32GB via the microSD card slot.
Dimensions and weight
The Nexus 7 measures in at 198.5mm x 120mm x 10.45mm weighing 340g for the 32GB+3G model, which compares to 197.4 mm x 128.5 mm x 11.3 mm and 320g for the Acer.
Operating system
These are both Android Jelly Bean tablets but the Nexus 7 is currently running the most recent 4.2 version of the operating system.
Camera
The Acer only comes with a 0.3 megapixel webcam while the Nexus 7 features a 1.2 megapixel front facing shooter that is also capable of 720p video capture.
Battery
The Acer uses a 2,710 mAh battery pack which compares to the 4,325 mAh battery found on the Nexus 7.
Connectivity
The Nexus 7 now comes in either Wi-Fi or Wi-Fi+3G options while the Acer Iconia B1 is only available with the option of Wi-Fi connectivity, and both devices offer Bluetooth 4.0 technology.
Pricing
So far there is no official pricing for the Acer in other regions but the company is saying it will be below $150 in the US, while the Nexus 7 starts at $199/£159 for the 16GB model going up to $249/£199 for the 32GB version.
Will you be considering the upcoming Acer Iconia B1?