BBC Sport iPhone app, Waiting game for Android
With the growing smartphone and tablet PC markets we have seen a huge growth in the various applications available to end users, which cover most things and uses that you can think of. For sport fans it now means they can keep up to date with their favourite sports or teams no matter where they are or what they are doing. We now have news of the new BBC Sport iPhone application that leaves Android users playing a waiting game for the apps release though.
The broadcaster has taken to its blog page to reveal the availability of the app, and to outline some of the features along with plans for it in the coming months. The company has revealed it has used the success of the summer of sport last year to provide a great mobile experience for users, which started with the BBC Olympics application.
Now this new app offers a similar experience that has the same web based content as the mobile sport website, as well as extra features and functionality. Users will be able to create quick links to their favourite sports, which makes use of the standard iOS pattern for adding, re-ordering, and removing.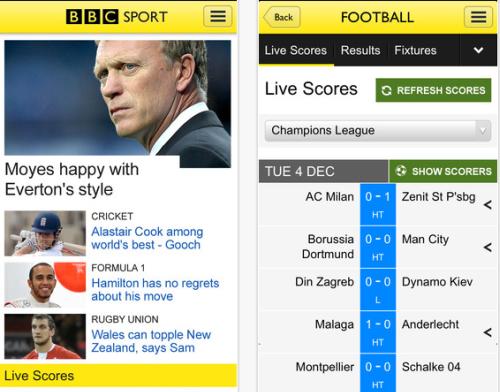 It was revealed that an Android version is still undergoing testing to make sure it works on the various devices and versions of the operating system for the platform. Currently some of the links included in the app will just open the BBC Sport mobile website, but the company has stated it will update the app in the coming months to have content contained in the app as well as adding football teams to the quick link options.
Once users first download the application to their device they are presented with a tutorial screen that shows the apps main features, and this is always available via the apps other menu. As soon as new updates arrive the company will also update the tutorial to explain these features to users.
Once available the application will be suitable for Android devices with a screen size up to seven inches, and a Kindle Fire version is also in the works as well. For now the BBC Sport app is available on the App Store in the UK for iOS devices running iOS 5 or later, and those that have already downloaded it are giving it positive reviews.