Alcatel One Touch X'Pop, S'Pop and T'Pop Android Phones
We're hearing plenty of news from the Alcatel camp today and now we have details of the new 2013 lineup of budget Android smartphones from the company. These One Touch handsets will be released in Q1 and available in Asia, Africa and Europe. The three phones on the way are the One Touch X'Pop, S'Pop and T'Pop with the X'Pop top dog followed by the S'Pop and the T'Pop in that order, although all have something to offer those who want an affordable smartphone.
Earlier today we told readers about the quietly impressive Alcatel One Touch Scribe HD 5-inch smartphone and also new Alcatel One Touch tablets so Alcatel is certainly setting out purposefully into the New Year. Each of the three One Touch Pop phones detailed here come in two varieties, one offering HSPA connectivity over 900/2100MHz bands and the other touting HSPA over 850/1900/2100MHz bands. Quad-band GSM connectivity is available on every model.
We'll start with the best of these three One Touch handsets, the X'Pop with specs including a 1GHz dual-core processor, 4.5-inch qHD display with resolution of 960 x 540, 512MB of RAM and microSD card slot. It also features a 5-megapixel rear camera and a VGA front-facing camera and runs on Android 4.1 jelly Bean and will be released later this month, according to Engadget.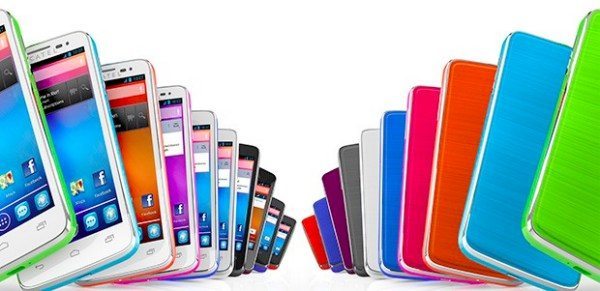 Meanwhile the Alcatel One Touch S'Pop will be released in Asian markets next month and includes a 1GHz single-core processor, 3.5-inch HVGA display with resolution of 480 x 320, 512MB of RAM and microSD card slot. The S'Pop also sports a 3.2-megapixel rear camera with VGA front-facing camera and like the X'Pop will run on Android 4.1 Jelly Bean.
Definitely the lesser offering is the One Touch T'Pop with a 1GHz single-core processor, 3.5-inch HVGA display with resolution of 480 x 320, a paltry 256MB of RAM and microSD slot. Alas the T'Pop has only a 3.2-megapixel camera with no front-facer and runs on the older Android operating system, 2.3 Gingerbread. This one is set to arrive this month in Asia but sadly Alcatel has not yet revealed prices for any of the above smartphones.
To be frank we'd expect these phones, especially the S'Pop and T'Pop, will need to be extremely competitively priced as the specs and features aren't exactly dazzling and we'll bring you further information on that as we hear it. Could you be swayed to purchase any of these budget handsets from Alcatel? Let us know what you think by sending us your comments.