Sony Xperia Z at CES Vegas, full specs soon
As you might expect, here at Phones Review we're pretty excited to be following all the news from CES Las Vegas, which officially runs from tomorrow, January 8 through 11. One of the phones we've been most eager to hear about is the Sony Xperia Z, formerly dubbed the Yuga (C660X), and we should have full specs on that very soon for you. For now we have news of some photos that have emerged as well as a spot of the Xperia Z on the show floor at CES.
We've been anticipating the Sony Xperia Z for some time and hoped that it would indeed be officially unveiled at CES. Recently we also passed on the news to our readers that the Xperia Z could actually be released as early as January with a leaked date of January 15, although for now this should be taken with a pinch of salt. Nevertheless we think if Sony makes this one of the first smartphone releases of the year then it could have a real hit on its hands as rumored specs include a quad-core processor and a 13-megapixel rear camera.
New photos seemingly showing the Sony Xperia Z have come to light, as reported by Xperia Blog, which appear to be stills from a promo video. If these ePrice photos are genuine then they do confirm some of the rumored specs and features such as the chassis being water resistant, HDR videos and photos and 13-megapixel rear camera, also with Exmor RS sensor as we previously speculated. There's also an OptiContrast Panel and full HD display, to rival the Oppo Find 5 and HTC M7. The photos, some of which we have shown here, also show a Skeleton frame structure but did throw up some confusion as there is no visible flash. However we're informed that flash was definitely spotted in earlier leaks and so the mirror finish on the reverse of the phone looks as though it has hidden the flash for now.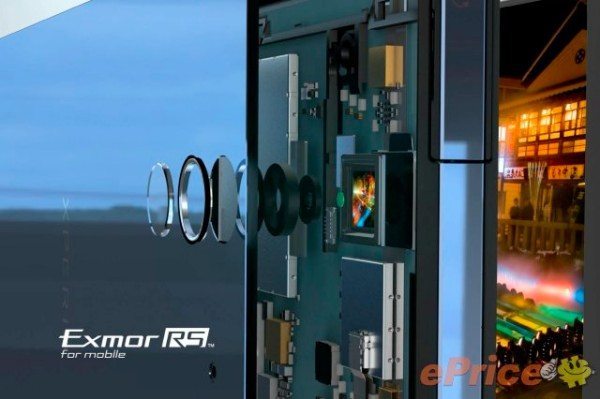 In another leak from the CES floor itself the team at Engadget appear to have spotted the Xperia Z with its 5-inch display in a Sony booth at the Las Vegas Convention Center. We expect to hear all of the details about the phone at a press conference tomorrow so of course we shall update you with full specs on the phone as soon as we hear them ourselves.
We're interested to find out what readers think of the Sony Xperia Z. If all of the rumored specs, such as 5-inch HD display, 13-megapixel camera, quad-core processor and more are in evidence we think this could fly off the shelves. Could the Xperia Z appeal to you though? What for you are the deal breaker specs? Let us know by sending your comments.