Huawei Ascend Mate 6.1-inch phone is just too big
We've been bringing you news about the Huawei Ascend Mate smartphone since October when we first heard of the rival to the Samsung Galaxy Note 2. It's one of the new 'phablet' devices, technically a smartphone but because of the size of its display nudging towards the size of a small tablet. Although there has been a growing trend for smartphones with larger displays the Ascend Mate has an extraordinarily large 6.1-inch screen size and we wonder if this is just too big.
As we expected the Huawei Ascend Mate was made official at CES 2013 in Las Vegas yesterday and announced it as the "smartphone with the largest screen in the world," but we're not sure this is something that will be a huge selling point, simply because the size is so large that it becomes neither a phone or a tablet, making us wonder exactly who will use it? We'll come back to this point later but first of all we'll give you some further details of the Ascend Mate so that you can see what it has to offer.
The Ascend Mate specs include a 1.5GHz Hi-Silicon quad-core processor and 6.1-inch HD IPS+ LCD display with resolution of 1280 x 720 with a Magic Touch feature ensuring screen responsiveness even when the user is wearing gloves. There's also 2GB of RAM and it has an 8-megapixel AF rear camera with HDR and 1080p video capture, along with a 1-megapixel front-facing HD camera, all running on Android 4.1. The Ascend Mate also carries a whopping 4050 mAh battery as well as battery efficiency technology Automated Discontinuous Reception (ADRX) and Huawei's Quick Power Control (QPC), meaning that users should get 2 days of average usage from a single charge.
The Ascend Mate will be available in two color options, Crystal Black or Pure White and will be released first in China in February although launches for other regions have not been detailed yet. Returning to the question of display size, for a long time there were calls for the iPhone to be made larger and the display was increased to 4-inches on the iPhone 5. Meanwhile the ever-popular Samsung Galaxy S line stepped up to 4.8-inches for the Galaxy S3 and the Galaxy Note was one of the first phones described as a phablet with a 5.3-inch display on the original Note, increased to 5.5-inches for the Galaxy Note 2. Many of the new and upcoming smartphones that are attracting a lot of interest, such as the HTC Butterfly, Oppo Find 5 and just-announced Sony Xperia Z, seem to have settled on a 5-inch display though, suggesting that manufacturers may have deliberated this is the size that most consumers may be happy with.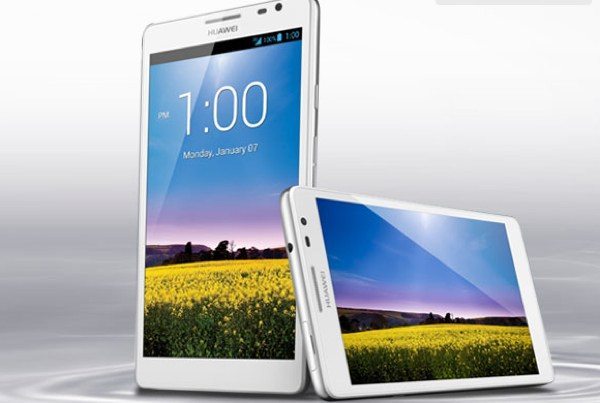 We should say that although the Huawei Ascend Mate sounds uncomfortably large to us, Huawei stresses that it measures only 6.5mm thick at its slimmest part saying it will "fit comfortably in one hand." We'd point out though that surely this would depend on the size of the user's hand and we won't be convinced until we hold one for ourselves. When looking at the dimensions of the Ascend Mate we can tell you that it measures 163.5mm x 85.7mm x 9.9mm and of course with the size of the handset it was never going to be lightweight but weighs in at a whopping 198g. You can see more about the Ascend Mate at this product page.
All things considered we're not convinced that consumers really want a smartphone this large but of course we could be proved wrong. Nevertheless we wonder how many people will want to lug around a device with a 6.1-inch display that weighs pretty hefty too and we wonder about practicality as we can't imagine many pockets that it would fit into easily. Although there's undoubtedly a lot to impress about the Huawei Ascend Mate we wonder if Huawei has taken size simply too far. What we'd really like to know though is what our readers think.
No matter how much the Ascend Mate appeals to you in other respects can you see yourself touting around a phone with such a large display? Maybe you think the larger the better and can't wait to take a look at it? Should there be a limit for the display size of a smartphone and if so how large would you be happy with? Let us know by sending your comments.