Gorilla Glass 3 even tougher but don't give up bumpers & cases yet
Corning Gorilla Glass 3 has just been introduced at CES in Las Vegas and the third-generation glass will no doubt be evident in many of the top forthcoming smartphones and tablets. Gorilla Glass uses technology that makes it thin, light and damage-resistant and has a reputation that makes it the preferred choice of many top manufacturers in the mobile device industry. While the latest iteration has been unveiled in a blaze of glory it will certainly be interesting to see just how much it improves on Gorilla Glass 2.
Technology called the ion exchange process is used for Gorilla Glass to chemically strengthen it. The third-generation of this alkali-aluminosilicate glass is touted by Corning as having Native Damage Resistance (NDR), claimed to be three-times more damage-resistant than Gorilla Glass 2. It also has greater retained strength that stays stronger than its predecessor once it has been scratched. Gorilla Glass 3 looks set to be a big improvement, being tougher with improved scratch resistance and less scratch visibility and will ship later in 2013 when it will appear in the first devices.
An article on ZDNet though, explains how it is easy to place a little too much faith in protective products and suggests that when Corning Gorilla Glass 3 arrives we shouldn't assume we will be able to do without our cases, bumpers and screen protectors for devices using it. The popular Google Nexus 4 phone by LG uses Corning Gorilla Glass 2 and when the site reviewed this they found it quite resistant to minor bumps and scratches. However at a later point the Nexus 4 was accidentally dropped from chest height, causing a notable amount of cracking damage around the camera area, making the phone useless as there was no longer any touch response in the top half of the screen.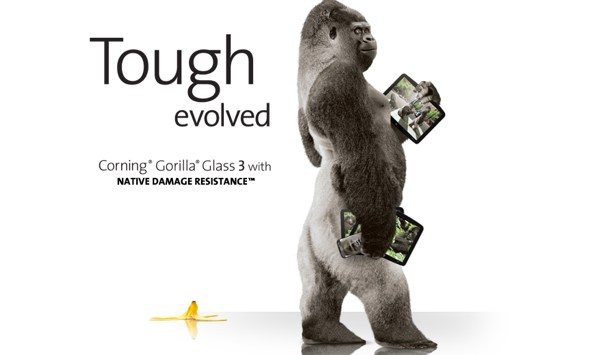 Despite the fact that it certainly is tougher than conventional glass, ZDNet points to many other reports of damaged glass on the Nexus 4 using Gorilla Glass 2 that users may not have expected going by the product's good reputation. However after initially breaking the Nexus 4 by accident they then attempted to scratch the display with scissors and found it very difficult to damage this way, which was more encouraging. Therefore there seems to be doubt in whether Corning Gorilla Glass 3 can actually be both scratch-proof whilst also being flexible enough to resist damage from impact.
This is something that will be thoroughly tested by tech sites as soon as they can get their hands on Gorilla Glass 3 and the first products using it and we'll be following developments and first impressions. We'd welcome your comments on this. If your next device purchase uses Gorilla Glass 3 will you still use normal protective bumpers, screen protectors etc?