iPad and Nexus say hello to Vizio 7 & 10-inch tablets
It seemed that for a long, long time Apple had all its own way in the tablet market with the iPad so dominant. Then the smaller Nexus 7 tablet arrived and was a big success, proving that smaller tablets also had a place on the market. Now Vizio has shown some prototypes of new Android Jelly Bean tablets at CES 2013 with similar sizes at 10-inches and 7-inches so perhaps Vizio could be a credible rival to the iPad and Nexus tablets.
Vizio has come up with a lower-end 7-inch tablet as well as a high-end 10-inch tablet with the new Tegra 4 processor that we discussed yesterday. We wondered how long before the first devices were announced using the NVIDIA Tegra 4 and the answer was not long at all with Vizio one of the first to show a Tegra 4 device. Vizio has not yet confirmed if both tablets will make it to the market but it does look highly likely that at least the Tegra 4 10-inch tablet will appear.
A Vizio 10-inch tablet should attract a lot of interest because of its Tegra 4 connection, especially as NVIDIA claims it is the "world's fastest mobile processor" so we'll wait with interest to see if indeed it makes it to the shelves and how it fares against other popular tablets. The impressive-sounding 10-inch slate has a display with resolution of 2560 x 1600, 32GB of onboard storage, NFC support, a 5-megapixel rear camera and 1.3-megapixel front-facing shooter. The 7-inch tablet misses out on Tegra 4 and instead uses a Tegra 3 processor, has a display with resolution of 1280 x 800, a 1.2-megapixel front-facing camera, 16GB of internal storage but has no NFC support. Both the 7-inch tablet and 10-inch tablet run on the latest Android OS, Jelly Bean. It's also the stock version and that should please many Android enthusiasts.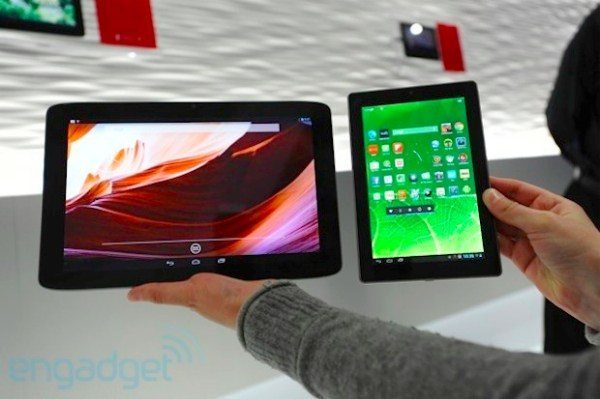 Design-wise Engadget describes both of these tablets as having a "rubbery, soft-touch finish" giving the user a good grip. The 10-inch Vizio tablet has two speaker grilles on the reverse while the 7-inch tablet has one speaker grille. Unfortunately it seems NVIDIA is still keeping tight wraps on the Tegra 4 so although a movie clip was shown on the 10-inch slate there was no opportunity to use the device for other purposes.
There are no details on pricing yet and of course this would impact on how well these tablets could do. We'd be interested to hear what readers think about these two tablets. Would you like to see Vizio get these to the shelves, particularly the higher-end Tegra 4 10-inch tablet? Could you be tempted to the larger Vizio tablet because of its Tegra 4 processor or maybe you think Apple or the Nexus tablets have nothing to worry about? Let us know with your comments.