Sony Xperia Z and ZL phones exudes class
CES 2013 has kicked off and naturally Sony are there to show off their latest and greatest devices in the form of two top end smartphones being added to their ever expanding Xperia line, which sport almost identical specification. Those two smartphones are the Sony Xperia Z and Xperia ZL, with the Xperia Z being the main handset of the two.
The guys at Engadget were on hand to get some playtime with both devices, and apparently the main difference between the Xperia Z and ZL is that the Z carries a waterproof and dust IP55 and IP57 rating whilst the ZL doesn't.
The specs for the Sony Xperia Z include a 5-inch 1080p TFT Reality Display with 443dpi, a 13 megapixel rear facing camera with HDR video along with an upgraded 2 megapixel front facing shooter with Exmor R sensor, a Qualcomm Snapdragon S4 quad core processor, LTE, Bravia Mobile Engine 2, and will come out to play running Android Jelly Bean with Sony entertainment services included, and a 2330mAh battery.
The Sony Xperia Z will also be the first handset that will be able to communicate with Sony's new HDTV's via NFC, and features refined mirrored panelling to the sides and back along with a machined power button, and Sony is planning on getting the Xperia Z smartphone out in the global mobile space this quarter, but obviously no word on any pricing just yet.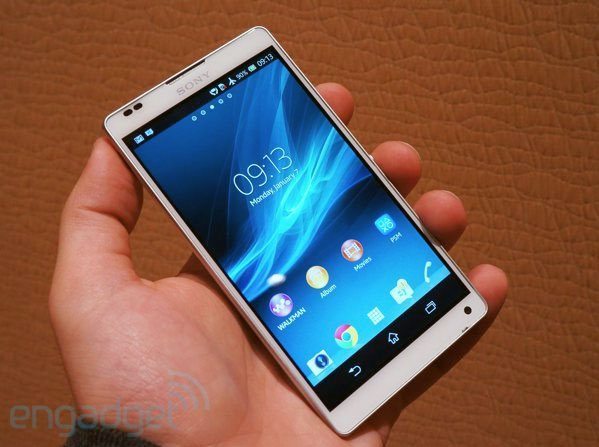 Just like the Xperia Z, the Sony Xperia ZL is an Android Jelly Bean smartphone with that 5-inch 1080p TFT Reality Display, 13 megapixel rear camera, and 1.5GHz Snapdragon quad core processor, and the guys say that in their mind the Xperia ZL chassis might be the better of the two due to sporting curved edges and a soft touch contoured back that deliver a nice in the hand feeling.
The Xperia ZL is a tad shorter than the Xperia Z coming in at 5.18 x 2.74 x 0.38-inches, and is also a tad heavier weighing in at 151 grams, although the ZL does feature a dedicated camera button whereas the Xperia Z doesn't, and the ZL also gains a little battery boost with a 2370mAh battery. We have a hands-on video with the Sony Xperia ZL that we have embedded below for your viewing consideration.
Again as with the Xperia Z smartphone, Sony is planning on bringing the Xperia ZL to the mobile space in the first quarter, which means we should see both handsets come out to play by the end of March, but again no word on pricing of the ZL.
Does the Sony Xperia Z or Xperia ZL capture the interest of any of our Android faithful readers?