LG Optimus Vu 2 Panorama Note adds wide 3:1 ratio
LG are at CES 2013 in Las Vegas, and the company has now officially announced a new feature for their LG Optimus Vu 2 phablet called Panorama Note mode, which apparently allows the user to write or draw 3:1 ratio memos and stuff straight on to smartphone displays. The Panorama Note mode was developed from an idea of scribbling freely on a large canvas according to LG.
A report over on Talk Android has it that LG is probably hoping that this new Panorama Note mode will go towards setting the LG Optimus Vu 2 apart from other rival stylus equipped devices such as the very popular Samsung Galaxy Note 2.
According to LG this new Panorama Note mode features a zooming capability of 5.8 times along with easy navigation of the display both horizontally and vertically via using cursors along with a mini map which shows the location of the viewed picture in the original image.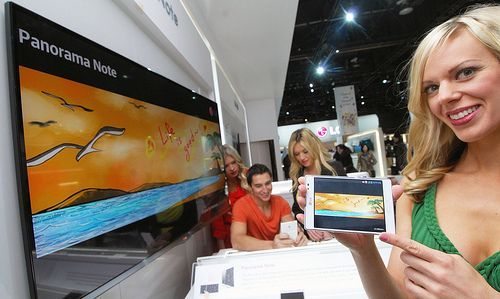 The president and CEO of LG Electronics Mobile Communications Company, Dr. Jong-seok Park says that the new Panorama Note mode is just one feature that they are introducing this year in order to differentiate their devices from rival mobile device offerings.
At the event LG also has an experimental zone where attendees can gain a personal experience with the South Korean company's innovative UX such as Dual Screen Dual Play, Live Zoominf and QSlide on LG devices.
Furthermore during CES 2013 LG's new Cu Talk feature will make its international debut on the LG Optimus Vu 2, and LG has stated the new Panorama Note mode will become available on select devices this year, although they didn't say which devices other than the Optimus Vu 2 would gain Panorama Note.
Spec wise the LG Optimus Vu 2 features a 5-inch IPS 1024 x 768 touch screen, an 8 megapixel rear facing auto-focus camera with LED flash, 1080p video, a 1.3 megapixel front facing shooter, a 1.5GHz Snapdragon dual core processor, Adreno 225 graphics, 2GB RAM, microSD expansion up to 32GB, Bluetooth 4.0, WiFi, NFC, a 3.5mm jack, and run Android Ice Cream Sandwich with a non-removable 2150mAh battery.