Verizon opens gate for Samsung ATIV Odyssey
Way back in the fall of last year during a Windows Phone launch even old Sammy announced the Samsung Ativ Odyssey, Sammy's first Windows Phone smartphone, and over in the good old US of A, if your preferred carrier happens to be the Big Red, and you have been waiting for Samsung's first Windows Phone to arrive, you'll be pleased to hear that Verizon will offer the Samsung Ativ Odyssey soon.
Verizon Wireless has now opened the gate for the Samsung Ativ Odyssey, which will be the carriers third Windows Phone handset, although the Big Red hasn't given a solid date as to when the Ativ Odyssey will become available but has only stated the device will arrive in the coming weeks.
Spec wise the Samsung Ativ Odyssey is a middle of the road handset that is somewhat similar to the Samsung Galaxy S3 mini in size, and was a smartphone that Microsoft said would arrive back in Decemeber but since that time Microsoft, Verizon and Samsung have all been somewhat quiet over the handset's launch in the US.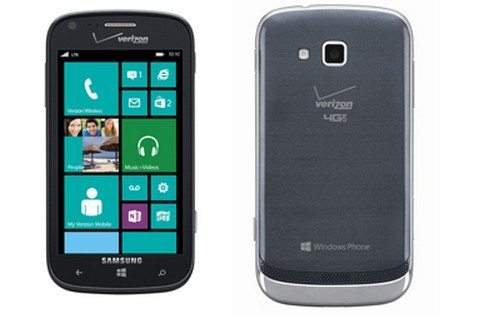 The Samsung Ativ Odyssey sports a 4-inch Super AMOLED WVGA 800 x 4 touch screen along with a 5 megapixel rear facing auto-focus shooter, 1080p video and a 1.2 megapixel front facing snapper, a 1.5GHz dual core Snapdragon S4 processor, 1GB of RAM, 8GB of internal storage but there is microSD expansion up to 64GB.
The Ativ Odyssey is a Windows Phone 8 smartphone that will play nice on Verizon's 4G LTE network, and sports a 2100mAh battery, along with being a global ready device so you can take it abroad with you.
The Samsung Ativ Odyssey for Verizon will also come with new applications so you can personalise the device, such as the Now app, which delivers access to news, stocks, weather and more, the Photo Editor app for applying stickers, frames and filters to your images along with resizing, cropping and rotating, and the Mini Diary app that allows the user to maintain a daily record of their activities and can include audio, location, drawings and pictures, which can also be shared with Picasa and Facebook.
As stated above, Verizon hasn't given an exact date for when customers can purchase the Samsung Ativ Odyssey, and naturally the carrier hasn't given any details on just how much the Windows Phone 8 handset will command price wise.
Have any of our US readers been waiting for the Samsung Ativ Odyssey to arrive on the Big Red?