Vuzix M100 glasses only smart if right price
The mobile space isn't just about smartphones and tablets, as there are also glasses that are becoming part of the mobile arena, and whilst at CES 2013 in Las Vegas, Vuzix has shown off their M100 smart glasses that run the Android platform and feature a tiny 480 x 272 display that sits neatly in front of your eye.
Vuzix says that the M100 glasses is the world's first enhanced 'hands-free' smartphone display and communication system for on the go data access from both the internet and the users smartphone. The Vuzix M100 smart glasses actually run on the Android Ice Cream Sandwich operating system and can even shoot 720p video and save to the on-board storage of 4GB.
The M100 smart glasses also support Bluetooth, GPS, WiFi, and apparently the device will also sport a microSD card slot as well, and have been designed to work in conjunction with an Android handset or tablet.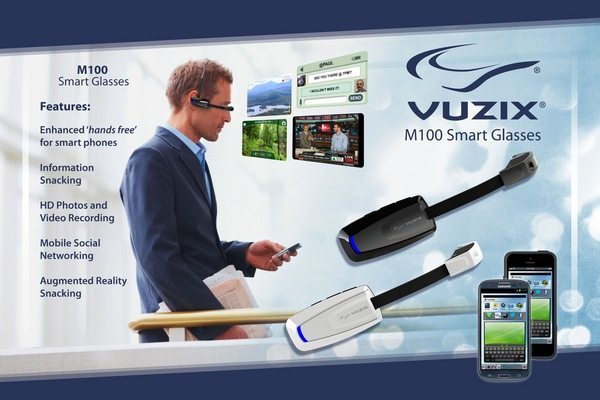 The smart glasses also feature hardware buttons; however using the touchpad control to move the mouse via your handset will probably be easier, and there is also a companion app that will enable you to control the glasses from your smartphone over Bluetooth.
The M100 will not only let you answer your smartphone with a visual address book, the device enables applications from reading text messages and email to visual navigation and basic augmented reality applications.
According to Vuzix claims that the device can get up to 8-hours of battery life when used as a hands-free device although if you do turn on that display that battery life falls to roughly two-hours and if you use the camera it shrinks down to just an hour.
However, the Vuzix M100 glasses will probably only be smart if the price is right, and word is that price will be below $500, and apparently developers can get some hands on time sometime in Q1 whilst apparently the SDK will cost a cool $999.
Although Vuzix showed off the M100 smart glasses during the CES 2013 event there is no word on just when the device will make it out into the mobile space for anyone that wishes to own them. If you would like to know more about the M100 glasses we have embedded a demo video for your viewing consideration below so don't forget to check out the footage…enjoy.