Sony Xperia Z at Phones 4 U, Register Interest Now
If you are a fan of Sony Xperia smartphones over here in the United Kingdom, and have had your eyes on the upcoming latest Xperia handset from Sony, the Sony Xperia Z. You just might like to hear that over here in the UK Phones 4 U will be ranging the Xperia Z in both black and white models, and you can register your interest in the Android smartphone as of right now.
Phones 4 U has announced that the Sony Xperia Z, the smartphone manufactures new flagship handset will become available to purchase in Phones 4u stores as of the 1st of March this year and anyone can register their interest in the device by visiting the Phones 4u website.
For those that may not be aware, the Sony Xperia Z is an Android Jelly Bean smartphone that sports a 5-inch full HD 1080p touch screen that lays claim to the highest pixel density of any smartphone, along with a 13 megapixel rear facing camera with HDR video and a 2 megapixel front facing camera with Exmor R sensor.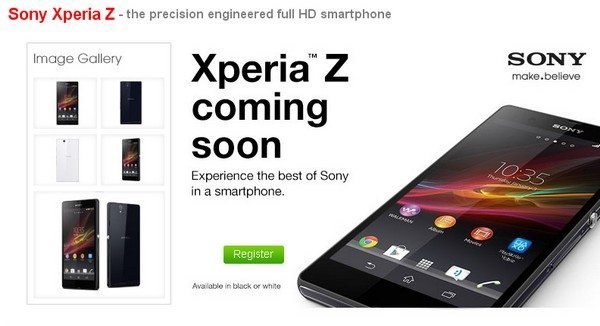 The Sony Xperia Z is a water and dust resistant handset IP55 and IP57 that is powered by a 1.5GHz Snapdragon S4 quad core processor, 2GB of RAM, Bravia Mobile Engine, and will also be the first handset that will be able to communicate with Sony's new HDTV's via NFC.
For those Android faithful that might be interested in the Sony Xperia Z, we have embedded a couple of video of the handset in action for your viewing consideration below. The first is a hands on with the device whilst the second is a promo video, so don;t forget to mash those play buttons to check out the footage.
Unfortunately although Phones 4u is now allowing potential customers to register their interest in the Sony Xperia Z, the company hasn't mentioned anything about just how much the smartphone will command price wise once it becomes available, but pricing will be revealed at a later date.
Any of our UK readers hoping to snap up the Sony Xperia Z from Phones 4u when the device hits the mobile space?