Awesome ZTE Grand S specs, but only for China
One of the mobile world's worse kept secrets is of course Chinese smartphone maker ZTE's latest and greatest handset the ZTE Grand S, a device that has already seen its fair share of leaked info, and is said to be the world's thinnest 5-inch smartphone at only 6.9mm in thickness. And now the Chinese firm has officially dished up all the details as they showed off the Grand S at CES 2013 in Las Vegas.
We have previously reported on the ZTE Grand S rumoured specifications but now ZTE has confirmed that the ZTE Grand S will come out to play sporting that 5-inch 1080p touch screen along with 2GB of RAM, 16GB EMMC, 13 megapixel rear facing auto-focus camera with flash, 1080p video, and a 2 megapixel front facing shooter.
The ZTE Grand S is an Android Jelly Bean smartphone that features a 1.7GHz Qualcomm Snapdragon S4 Pro quad core processor, 4G LTE connectivity at download speeds of 100mbps and upload speeds of 50mbps,Dolby Digital surround sound, and is the flagship handset of the ZTE Grand range, a range that also includes the ZTE Grand Era and the ZTE Grand X.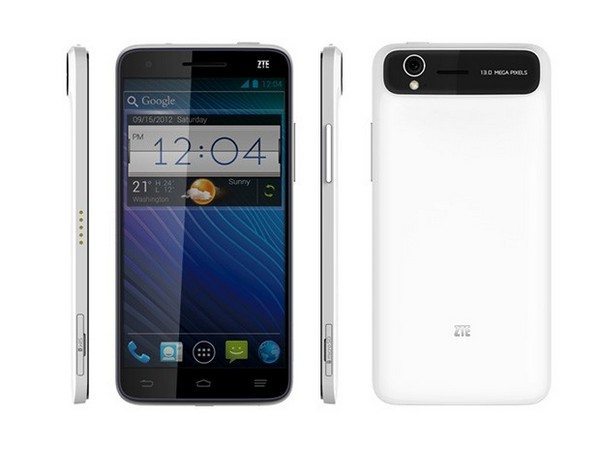 The Grand S is the flagship device of the range, whilst the ZTE Grand Era is for advanced smartphone users whilst the ZTE Grand X is for customers with a passion for high tech devices.
The corporate vice president and CTO of the ZTE mobile device division, Mr. Kan Yulun has said, the ZTE Grand S delivers style, functionality and the latest tech to customers, and they understand that customers want state of the art multimedia options and advanced features in a device, and the ZTE Grand S addresses these needs.
Although the specifications of the ZTE Grand S are quite impressive, unfortunately it isn't know whether ZTE will deliver the Grand S anywhere outside China, where the Android smartphone is expected to see release sometime in Q1.
No doubt there are a few of the Android faithful out there that would like to get their hands on the ZTE Grand S, so hopefully the firm might decide to release the handset in other markets around the globe at some point in the future, although that is a big might.
Are any of our Android faithful readers impressed with the ZTE Grand S and would like to own one if ZTE did release the device outside China?