Facebook phone appearance bet at special Jan 15th event
The mobile industry is so fast-changing these days that it seems that as soon as one popular handset comes out we're already turning our attention to its successor. However every now and then a device has been rumored for so long that we've almost given up on ever actually seeing it appear and that is the case with the Facebook phone. We've been reporting on this for many moons now but news of a Facebook special January 15 event makes us wonder if it's worth making a Facebook phone appearance bet.
Facebook has unveiled a mysterious event on Tuesday, January 15, 2013, which has a lot of people occupied with guessing what it could be about, thanks to the message, "Come and see what we're building." Those words on the familiar Facebook-blue colored invitation are simply added to by the date and time of 10am PT so it's evident that Facebook is very intentionally racking up intrigue by making the focus of the event so enigmatic. While the idea of it being for a Facebook Phone is pure speculation we certainly can't rule it out and as it's one of the most interesting prospects that could be announced there are plenty of fingers being crossed.
There are plenty of other possibilities that the media event could be for though, as pointed out by Slash Gear, such as a new Facebook service or software or more news on Instagram or the Poke short-messaging, photo and video service that was recently announced. Another possibility is that new data sharing services that will ultimately lead to unified profiles are due to come into play on January 16, which just happens to be the day after the event. It also appears that New Zealand is the first country to go live with a new single-column timeline and this could be about to roll out further.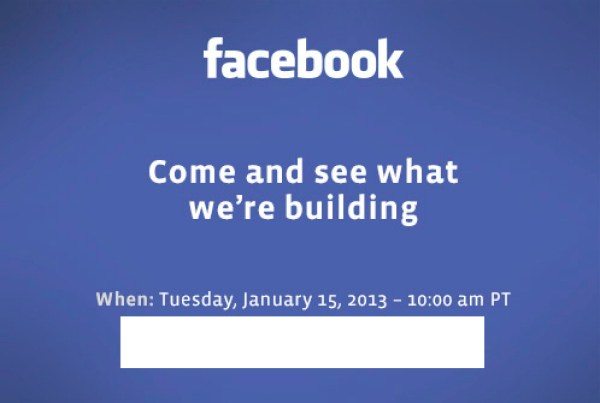 However a Facebook phone at last would be a far more enthralling prospect and the latest rumblings suggest it would have an Android OS skinned with HTML5. We shall of course be following the event on January 15 and hope we can at last bring news of a Facebook phone as frankly anything less would almost feel like a disappointment now. Of course this is just wishful thinking so in the meantime we'd like to know what you think about the idea of a Facebook phone.
Whether a Facebook phone is a good idea is of course debatable depending on what emerges but are you hoping to at least see some concrete news on a Facebook phone at last? What would you like to see from such a device and what could make it different from bog-standard handsets? Let us know by sending your comments to us.