HTC M7 with Sense 5.0 breaks cover before release
Now that the CES event has finished for another year thoughts are now turning to next month's Mobile World Congress, which should see some really nice mobile products showcased by various manufacturers. Before then we have a new leak for you regarding the upcoming HTC M7 with the companies Sense 5, which has broken cover before any release of the handset.
Back in December we last heard some news about the handset that included the rumoured specifications for the device, but now some images have surfaced that seemingly show the handset with some screenshots of the HTC Android overlay, Sense 5. We have previously compared the HTC operating system with what may be seen this year with iOS 7 from Apple.
It seems though the HTC M7 is getting closer to its release date, and while the image below doesn't show much about the handset, it seems the company will be bringing its stylish polycarbonate design over to the Android platform that it has used on its Windows Phone 8 devices.
The HTC M7 is expected to be released running Android 4.1 or Android 4.2 Jelly Bean, with claims that the company were going to stop using on screen navigation buttons. This would be instead of those capacitive buttons that many users don't like, but the images that have been leaked seem to show a menu button present.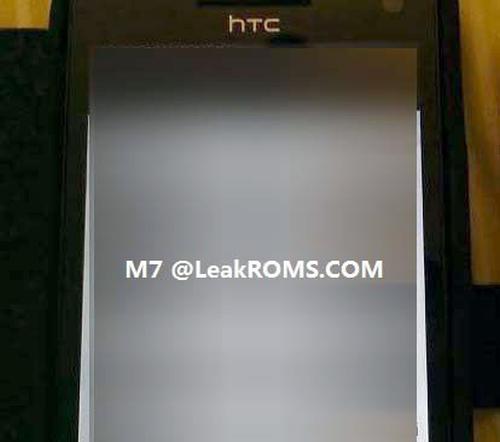 It also seems that HTC has cleaned up its Android overlay that sometimes users can find too cluttered ruining the Android experience. As the Android Community are suggesting we will hopefully see some more images of the actual handset leaked soon, as there has been talk the HTC M7 will be released to the public during February.
The rumours doing the rounds at the moment suggest the HTC M7 will feature a 4.7-inch Full HD display offering an impressive 468ppi pixel density, and will be powered by a Qualcomm quad core processor that will be clocked at 1.7GHz. This will supposedly be supported by 2GB of RAM with 32GB of on board storage.
While this is all speculation for the time being the company is looking to improve its recent fortunes by offering some worthy handsets this year. HTC got the ball rolling late in 2012 with the J Butterfly as well as the HTC DROID DNA that Verizon users in the US got access to. The original source for these images at the time of writing seems to have disappeared.
Will you be giving the HTC M7 a look once it's released?