Kenwood Excelon DNN990HD Android in-car entertainment stereo
While smartphones have evolved in recent times we have also seen our cars become more connected than ever as well. Many modern cars instantly sync with our smartphones as soon as we get inside them with no need for things such as Bluetooth headsets, but not everyone can afford or owns a newish car so luckily there are plenty of products out there that can get around this. The Kenwood Excelon DNN990HD Android in car entertainment stereo has recently been announced that may tempt many Android fans.
The new device once installed will connect to a Wi-Fi enabled smartphone or a mobile hotspot to access a whole host of features the unit can take care of. The device is running on a modified version of Android, but the unit is not certified for the Google Play Store.
Kenwood has instead provided its own app store that is available online and will only feature applications that are approved for use inside a car. The stereo itself has a fully configurable interface with icons that can be moved between the numerous home screens or even deleted.
Users will be able to send and receive Facebook and Twitter updates along with managing emails, all of which can be done hands free. Built into the unit are features such as Pandora Internet Radio, HD Radio, and Bluetooth with audio streaming capabilities.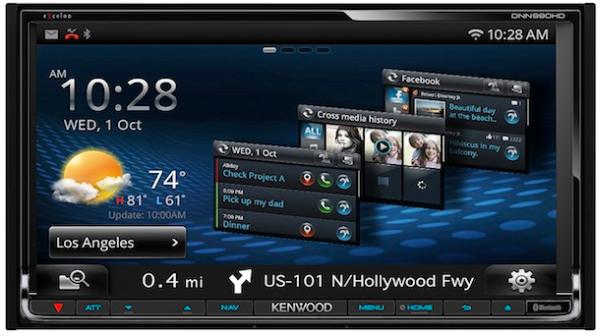 There is also built in Garmin navigation that uses real time traffic and weather information, and it can carry out cross platform media searches for audio and video content that is stored on a smartphone or other device via a Wi-Fi connection.
Using the hands free voice command users will be able to turn text to speech or speech to text using the dedicated Kenwood cloud server from the unit, and to use all these features there is a 6.95 WVGA touchscreen. There is also a 13-band graphic equalizer that can be used to improve the audio and DVD performance, and three sets of 5.0V preamp outputs offer extra flexibility.
You will also find dual USB ports for adding even more external devices, and you can even have the option of adding two cameras thanks to the twin camera inputs. According to ecoustics the Kenwood Excelon DNN990HD is priced at $1,700.
Do you like the look of the Kenwood Excelon DNN990HD?