Lomography Smartphone Scanner Shares 35mm Films
There will be many of you that remember the use of cameras that used 35mm film long before the advent of digital cameras and smartphones. It is this technology that arguably led to the demise of the iconic Kodak, but while most of us now use digital cameras we may still have countless supplies of images that were developed from 35mm camera film. Today we have news of a clever gadget called the Lomography Smartphone Scanner that can be used to share 35mm films.
If you have a stock of 35mm films sitting around at the bottom of a cupboard somewhere this may be the product that you are looking for, and it is a great way for analogue and retro enthusiasts to turn 35mm film into images that can be easily shared.
To achieve this you have to turn the products backlight on before inserting your film, and then take a photo of it using your smartphone. Then using the free Android or iPhone application edit and then share the photo instantly. You will then be able to have a digital version of your treasured snaps that can be saved or shared without any fuss.
The product is promised to offer unrivalled speed and convenience compared to other scanners that are available, and it has been designed by a team of engineers that are experts in analogue photography, as well as having a passion in the field.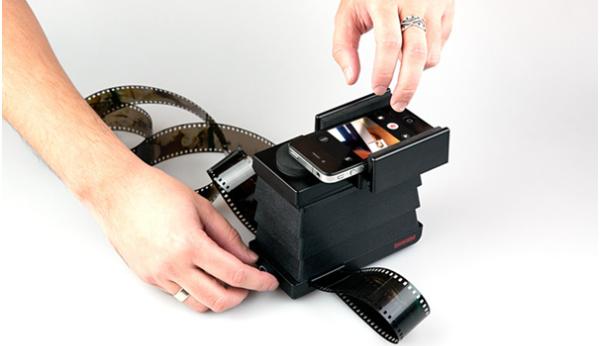 It has a direct light panel that will illuminate the 35mm film so it can easily be captured by the camera on a smartphone, and will offer a quality image that is ideal for sharing or printing. The scanner is compatible with all the versions of the Apple iPhone as well as many Android handsets.
The app will allow users to edit negative scans into positives, and put them together to create seamless panoramas and animate 35mm film. The Lomography Smartphone Scanner is another product over at the Kickstarter project and at the time of writing has already raised $59,960 beating its $50,000 goal with still 19 days to go. To find out more hit the above link and check out the video below.
Do you still have 35mm film negatives?