HTC One SV Review on Cricket
There are some brilliant high-end smartphones on the way but we should remember that not everybody wants or needs a phone complete with all the bells and whistles and would be quite happy with a mid-range phone. With that in mind the HTC One SV could be a good smartphone choice and in the US it's exclusively available on Cricket. It may be a phoned aimed at the middle of the market but it does have LTE connectivity and we're taking a look at the phone and what some reviews have to say about it.
We'll start by giving you some of the key specs and features of the phone and the HTC One SV has a 1.2GHz Qualcomm dual-core processor, 4.3-inch display with resolution of 800 x 480 and 217ppi, 1GB of RAM and 8GB of internal storage, expandable via microSD to 32GB. It also has a Beats Audio, a 5-megapixel rear camera with 1080p video capture along with a 1.6-megapixel front-facer, a 1800 mAh battery, 4G LTE and NFC and it runs Android 4.0.4 ICS with HTC Sense 4.1 UI. The HTC One SV release on Cricket is from today, January 16, and it's at a no-contract price of $349.99.
BGR's review says that the One SV on Cricket is "gorgeous" and a "fantastic mid-range model," and points out that although the price tag is $349.99, a phone with similar specs on Verizon or AT&T with no contract would be more likely to be in the $450 price range. The design and feel of the One SV receives exceptionally high praise and the 'Flame' color with shades of red and orange is certainly eye-catching. Other plus points for the One SV include the display, which despite the low ppi is said to be "surprisingly clear" and also the battery life. The very reasonable cost of service is also cited with Cricket's unlimited voice calling and messaging plan that offers 1GB of data costing $50 per month.
Negative points include mid-range performance, though of course this is very much a mid-range phone, data speeds and Cricket's coverage so you need to check your area is covered before you purchase. Ultimately BGR feels that as a mid-range phone the One SV is one of the best available and is great value and also hopes that the phone may also come to at least one of the larger carriers.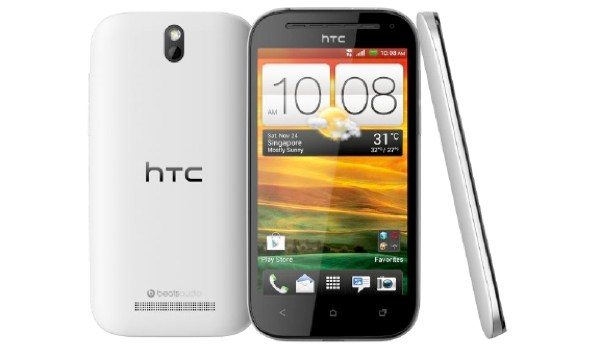 A review on the Cricket HTC One SV on ZDNet is very favorable and although this is a mid-range phone it is described as "awesome." The price is said to be reasonable for a phone of this quality and although it doesn't have the very latest specs it's thought to be more than adequate for most phone users. The display is also praised along with the design, which has a metallic frame, glass frontage and soft touch reverse. The build is described as having a "solid feel," while the orange coloring also receives positive comments.
Our final review look comes from Android Central and describes the One SV as an "outstanding mid-range package" as well as noting the "quality construction." This review likens the One SV to an improved HTC One S and says that although this is so far only heading to a smaller carrier, HTC has not tried to cut corners with the design or features. The price of the One SV on Cricket with no contract is pointed out as "the single best thing" about this phone while the design once more receives applause. The performance is noted as "well above its budget price tag."
In conclusion then we'd say the HTC One SV on Cricket looks to be a very good choice for those who want a phone with decent performance that also looks good but don't want to pay a high-end price. For what it has to offer it appears that it should appeal to plenty of people and it will be interesting to see if one of the four major carriers also takes it on at some point. What are your thoughts on the HTC One SV? Does this seem like a mid-range phone that could appeal to you? Send your comments to let us know.