Sprint Kyocera Torque E6710 Android rugged smartphone
While there are a growing number of stylish and feature packed smartphones being released, not everyone needs or wants to splash out large sums of cash for such devices. There are also many of us that may need something a little tougher and without the need of adding a case to protect the hardware. Today we now have news of the Sprint Kyocera Torque E6710 rugged Android smartphone.
Being so open Android allows various manufacturers to come up with a number of different products to tempt consumers, covering almost any type of handset. Handset manufacturer Kyocera already has the dual screen Echo on offer, and now the company has something else up its sleeves in the form of the Toque E6710.
The handset has recently passed through the FCC and the documents placed with the body suggest it will use cellular bands for Sprint's mobile network. There also seems to be support for Wi-Fi 802.11 b/g/n, LTE, and NFC connectivity.
It is thought the handset will be running an almost standard version of the Android Ice Cream Sandwich operating system, but the rest of the handsets features are currently not known. There are both rear and front facing cameras though with a display of at least 800 x 400 resolution, and the rugged design should mean it is water and dust resistant.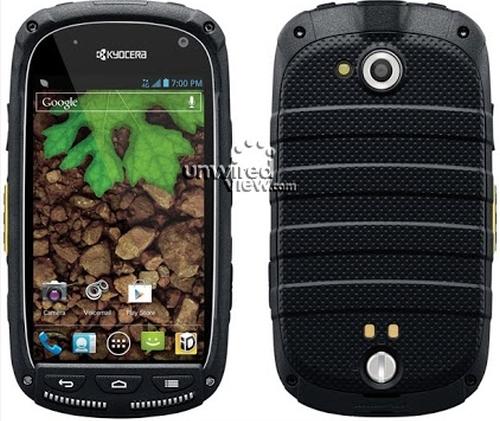 The device should also be able to handle the many bumps and scratches that life can throw at it as well, and looking at the images it seems the screen is no bigger than 3.7-inch with physical menu, home, and back buttons below the display.
This is not the first handset from the company that is destined for the US carrier Sprint, as it already has the budget Rise that runs on Android 2.3 Gingerbread along with a QWERTY keyboard and the Milano also has a QWERTY keyboard but runs Ice Cream Sandwich.
Source: Unwired View via Blog of Mobile.
Do you need a tougher smartphone?