LG Optimus G Pro Release for NTT DoCoMo in Japan
Smartphone manufacturer LG is looking to make a bigger impact in the market this year by increasing its range of high end handsets. Obviously the company has the Nexus 4 on its books, but it is the other smartphones it will offer over the coming months that it will want to see sell well in the Android market. Today the LG Optimus G Pro has been officially announced for release on NTT DoCoMo in Japan, and hopefully it will see a global launch as well.
There has been a lot of speculation over the last few weeks about the availability of the LG Optimus G2, with talk originally expecting to see the device at the recent CES 2013 event in Las Vegas. This obviously didn't appear but an LG spokesman did reveal the company was going to launch a number of new handsets in the coming months.
This has proven accurate as already the LG Optimus G Pro has been officially announced in Japan by the NTT DoCoMo carrier, and the smartphone is expected to launch in the country during the month of April.
The confirmed specifications for the handset include a 5-inch Full HD touchscreen display powered by a Snapdragon S4 Pro quad core processor clocked at an impressive 1.7GHz. There is also 2GB of RAM with 32GB of on board storage that is expandable further via the microSD card slot.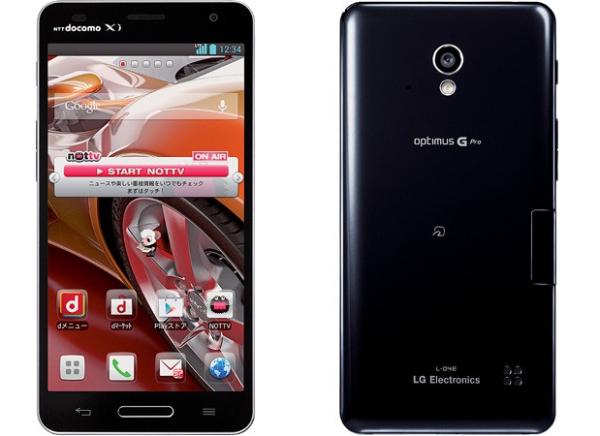 Providing the juice for all that internal spec will be a high capacity 3000 mAh battery unit, and surprisingly the LG Optimus G Pro will come running the Android 4.1 Jelly Bean operating system straight from the box, but you would have thought that it would use the latest 4.2 Jelly Bean version from the off.
There is a thirteen megapixel rear facing camera with other features that include NFC connectivity, Bluetooth 4.0, and mobile wallet. Users will also be treated to the carriers Xi LTE that is the fastest 4G connection in the country, and the handset measures in at 139mm x 70mm x 10mm weighing 160grams.
At the time of writing there is no news on the handsets availability in other regions, but we may hear something official from LG at next month's MWC event. Do you like the look of the LG Optimus G Pro? Source: SlashGear.