BlackBerry Enterprise Service 10 download is RIM's New Multiplatform
We've been tracking all the developments regarding the upcoming BlackBerry 10 OS and the devices that will run it and the closer it gets to the January 30 event where BB10 will be officially introduced, the more our anticipation is growing. Ahead of the big unveiling we have now received word from RIM that the BlackBerry Enterprise Service 10 (BES 10) download is now available, news that will please many people.
BlackBerry 10 has taken a while for RIM to get under control after several delays and initially we have to say that we were skeptical as to whether it would be enough to rejuvenate the ailing company. BB10 is really make or break for RIM but the closer we get to its launch and the more we hear about it the more promising it looks that it could be the big success that RIM hopes for. A while ago we said that as BB10 was a whole new operating system, the current BES would not be able to manage BB10 devices and hence it would be upgraded to BES 10.
Now that time is here and RIM has announced BES 10 as its new Enterprise Mobility Management solution and told how it is now available to download. BES 10 not only supports current BlackBerry phones, BlackBerry 10 smartphones and the PlayBook but as far as the iOS and Android platforms are concerned it will also support device and enterprise app management in a single console. You can see more about BES 10 in the video we've embedded for you below this story.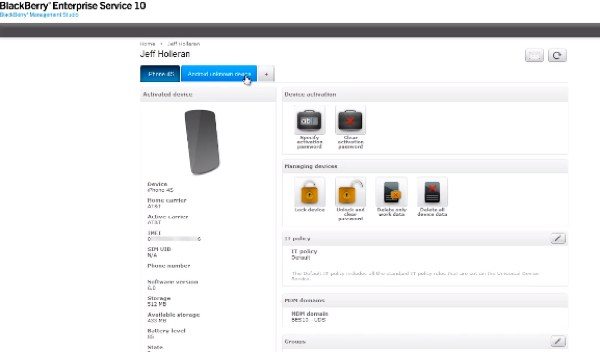 Just one of the key features for BlackBerry 10 smartphones with BES 10 is the use of BlackBerry Balance technology which ensures secure separation of data and personal and work apps for BB10 smartphones. It also enables seamless and secure access to business email and content plus offers secure connectivity for apps and data 'behind the firewall' and much more. BES 10 can be downloaded as a free 60-day trial (includes client access licenses) here. RIM also has a trade-up program whereby companies can trade-up from BES licenses to BES 10 at no charge. Details of that can be found here.
It certainly looks as though things are all coming together for RIM and the BlackBerry platform at the right time and of course we'll be informing readers about all the forthcoming news from the event, including more on the BlackBerry Z10 smartphone that will be the first to release running the new BB10. Are you following the BlackBerry 10 launch? Do you think it may be too little too late? Perhaps like us, you're excited to see what it has to offer and are keeping an open mind? After all, more competition against the dominant Android and iOS platforms has to be a good thing surely? Let us know by sending us your comments.