NEC & NTT DoCoMo Medias W N-05E flips right open
There was a time that clamshell type mobile phones where all the rage and we have also seen a number of dual screen devices being released, but more recently these sort of handsets have been thin on the ground. Now though we have news of the NEC and NTT DoCoMo Medias W N-05E that flips right open.
We have been bringing you a lot of news in the last couple for days about Japanese carrier NTT DoCoMo that have revealed a number of upcoming devices for its customers. This has included various smartphones and tablet PCs, but we now have something a bit different for you.
The clamshell NEC Medias W N-05E has been revealed and features not one, but two 4.3-inch gHD displays each offering a resolution of 960 x 540, which is joined together by a hinge that allows the screen on the rear to be moved forward to make an almost square 960 x 1080 touchscreen.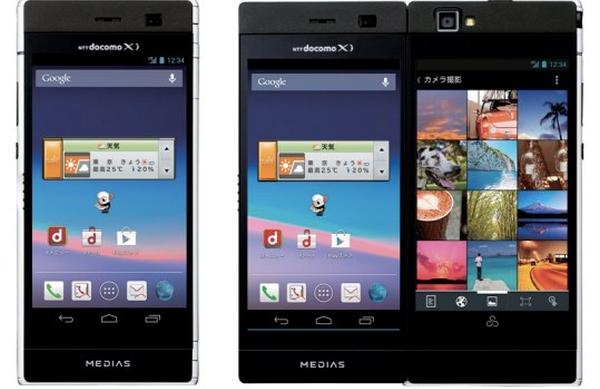 Under the hood is a dual core Qualcomm Snapdragon MSM8960 processor clocked at 1.5GHz that is paired with 1GB of RAM, and the handset will come running the Android 4.1 Jelly Bean operating system.
Other features include an eight megapixel rear facing camera, front facing shooter, 2100 mAh battery, GPS, Bluetooth, and Wi-Fi. Internal storage is 16GB but this can be expanded further via microSD card up to 32GB, and there is even 4G LTE connectivity as well.
The two displays can either be used as one big screen or run two applications independently, and the device can be positioned so the bottom display can be used as a touchscreen QWERTY keyboard. The carrier is claiming that battery life will provide up to 460 hours using LTE while in standby, with up to 500 minutes of talk time on a 3G network.
This would obviously reduce when using the two displays at once and the device is around 12.2mm thick when shut. The handset is set to become available during April but there is no word if it will be seen elsewhere. Source: NTT DoCoMo via Google Translate.
Do you like the idea of a dual screen smartphone?