Samsung ATIV Odyssey via Best Buy on the house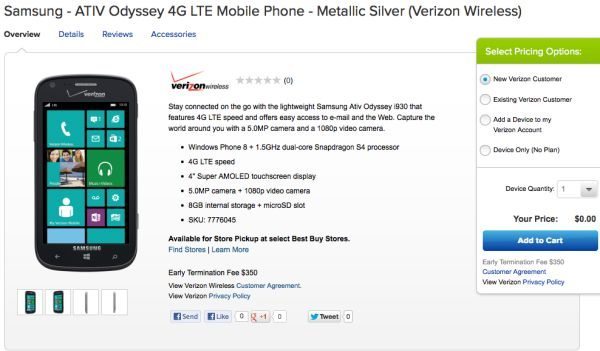 If you are looking at getting the Samsung ATIV Odyssey then look no further than Best Buy, they are offering it for free on the Verizon network. OK, we did say on the house and in a way it is considering it will cost you nothing at all; the only downside is that you will have to confine yourself to a two-year contract with Verizon Wireless.
We already reported that the Samsung handset would be priced at $49.99 on the usual two-year contract after a $50 mail-in rebate, so this deal is much sweeter. The Samsung ATIV Odyssey is free via Best Buy and that is the best price tag you will ever see, the good news is that you do not have to be a new Verizon customer to get this amazing deal, it is available for existing customers who are looking at adding a new line to and existing account, or if you are looking at upgrading your phone on your current line.
Just in case you have forgotten, the Samsung ATIV Odyssey comes packing a 4-inch Super AMOLED screen with WVGA resolution, 8GB of built-in storage, dual-core 1.5GHz Qualcomm Snapdragon S4 Plus MSM8960 processor, 233ppi pixel density, 5MP rear-facing camera with 1080p video, as well as a front-facing 1.2MP camera, it also comes featuring a 64GB capacity microSD slot, Adreno 225 GPU, 1GB of RAM and a cool 2100mAh battery.
Normally when these sort of deals pop up you have to be a new Verizon customer, this is where it differs from ordinary deals. If you prefer to own the Samsung ATIV Odyssey outright without any plans the price will be $549.99. To get this deal right now please visit here.
Please do let us know if you will be grabbing the ATIV Odyssey via Best Buy on Verizon?