BlackBerry Z10 Vodafone UK Incredulous Release Date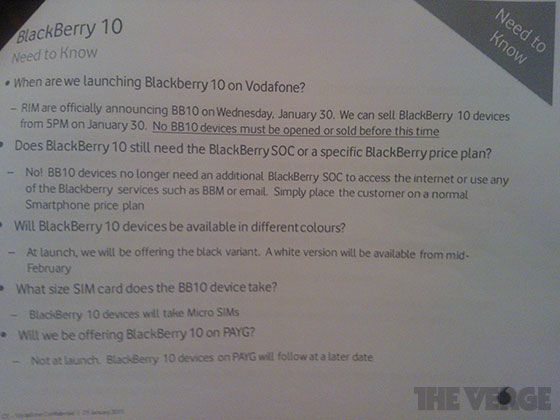 Are you ready for the BlackBerry 10 launch event tomorrow? Well, whilst you are waiting here is a little more news covering the BlackBerry Z10 Vodafone UK incredulous release date. This smartphone is getting closer to being reality with an official announcement and reports are coming in that this handset could release sooner than first thought.
Phones Review have already reported about Carphone Warehouse and Best Buy getting their hands on the BlackBerry Z10, with the UK version possibly going on sale for around £480 and we have also mentioned that Canada offering it via Best Buy.
The latest news comes via The Verge showing a document via Vodafone in the UK offering a BlackBerry 10 device as early as January 30th, and this is thought to be the Z10, with a release and in stores from January 31st – Look at the photo above to learn more.
The new BlackBerry Z10 will run the new operating system and will apparently be available to order online by 5pm on January 30th with Vodafone UK stocking it by the 31st. There will be many options in buying this handset including on-contract options, customers do not need to sign up to the BlackBerry SOC plan either.
The source above suggests that the BlackBerry Z10 can be obtained without the upfront cost of the handset for around £47 per month, and this will get you unlimited talk and text for 24 months and 3GB of data. Other options include the upfront cost of £229 plus a £25 plan that includes 100 minutes of talk, 100MB of data and unlimited texts.
Please follow Phones Review tomorrow where we will be covering the BlackBerry 10 launch event, you do not want to miss this one.