WindowsAndroid download adds android apps on Windows PC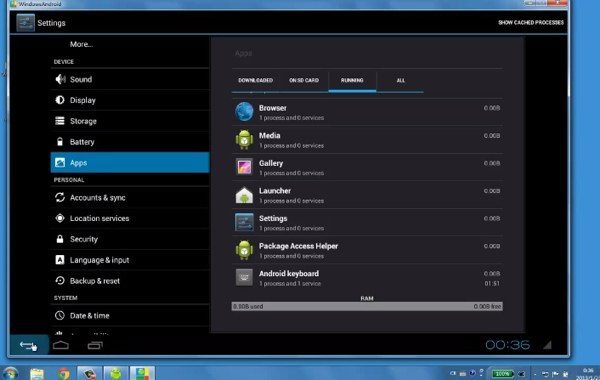 Here's some information that should please those of you who have ever wanted to have an Android app on your PC as we can tell you about the arrival of some software from Socketeq dubbed WindowsAndroid. The WindowsAndroid download allows users to add Android apps on a Windows PC and the great appeal of this software is that Android will run natively, thereby sidestepping emulation.
Emulation is not required because instead of using the Linux kernel, WindowsAndroid runs on the Windows kernel and this means you'll enjoy faster speeds. The version of WindowsAndroid that has just been released works with Android 4.0.3 so at this point there's no Jelly Bean action but newer versions will be ported at some time. So far though WindowsAndroid should be compatible with Windows 7, Windows 8 and Windows Vista. You can see a video showing WindowsAndroid below this story.
WindowsAndroid supports mouse and keyboard and also touch controls on Windows 8 computers but bear in mind this is in the early working stages and so may not be bug or crash free. Socketeq's website is heavily overloaded at the moment as you might imagine but usually you'll be able to grab the WindowsAndroid download from there. Otherwise there are some mirror links for WindowsAndroid at this Reddit thread. A copy of GApps is also a good idea for all kinds of Google stuff.
We'll give our usual caution about downloading and installing software of this kind and point out that if you choose to do so it is entirely at your own risk and your own responsibility if anything goes wrong. Still we know how many of you enjoy this kind of thing so have shared this information with you.
While there may be plenty of people who can't see the point of running Android on a PC we think there are plenty more who will love WindowsAndroid and will be checking it out. We'd like to know what you think about WindowsAndroid so let us know by sending your comments to us.
Source: Android Police