FindHrr app launch, the gay woman's guide and social networking: Update
UPDATE: FindHrr has finally been accepted by Apple and is now live and ready for downloading via the App Store, please download right here. Once you have done so please do let us know what you think of this new app.
We would like to bring it to your attention that there is a brand new application coming out very soon, welcome to the new FindHrr app launch, which gives you everything you need covering the gay woman's guide and social networking experience. This is a brand new iPhone app that was submitted to Apple last night for App Store approval, this is on a 48-hour review because the developers of FindHrr have a launch party all set for Saturday 16th February (We will let you know more about this launch party after we have talked about the new app).
The creators and developers have said to us that FindHrr is the first ever lesbian & bisexual lifestyle app, it uses all the high-tech gadgetry such as 'Geo Technology' and 'Pin Mapping', and thanks to this it will allow the user to find new friends and dates around the world. The application also allows users to check out all the latest information such as the latest lesbian events and places.
When FindHrr is available for download in the App Store users will be able to discover the ultimate lesbian lifestyle guide and connect with other gay and bisexual women.
The App
The app will allow users to browse through the directory of lesbian and gay bars, clubs and lesbian friendly places to eat, sleep and shop. You will also find well-being, sport groups, erotica and a useful guide to LGBT community support in your area. Fancy a night on the town? Check out the events section. Share your experiences and read recommendations from other users. With over 150 cities covered and comments updated in real time, FindHrr always has the latest information, making it easy and fun to plan your next adventure or big gay night out.
Create a profile and connect with other women. FindHrr is perfect for dating, business networking or simply arranging a group meet. Handy added features such as shout-outs mean you can promote your profile or business to everyone on the network.
Key Features
FindHrr is free and easy to use, Filter your results to discover what's happening nearby, which events are most popular and the gay female to gay guy ratio. The app also includes Push notification, list and gallery view, it offers easy access to recommended places and events in over 150 cities as well as the ability to leave comments and upload photos. FindHrr also allows users to chat with other women within this app. It's the lesbian travel guide at your fingertips, and if you're planning to go away you can change your location manually, make new friends and organise your trip before you arrive.
This new app will be available for free, but if you are tired of all the ads popping up on the screen you will be happy to know that you can upgrade to the FindHrr premium app. If you do decide that the premium version is for you then you will be happy to learn this version allows you to see more women, learn who thinks you're hot, save your likes and mutual likes, receive priority support, as well as the goodness of adding up to 5 profile photos, and the best part about premium its removes all banner advertising. Just so our readers are aware, FindHrr stress that photos of nudity or sex acts are strictly prohibited.
The Launch Party
The ONE LOVE event supported by Smirnoff and Findhrr at Area Area Club: 67-68 Albert Embankment, Vauxhall SE1 7TP. This event kicks off on Saturday 16th February at 9pm with Maya Jane Coles headline DJ. For more information about the ONE LOVE event please visit L-Wired, please do let us know if you will be attending.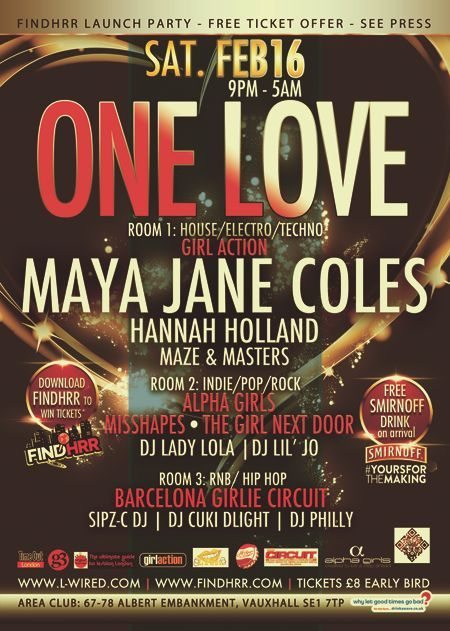 When you visit the official FindHrr website you will see a countdown timer of when app will be live, as soon as this iOS app is available in the App Store we will update right here. In the meantime please do let us know what you think of the FindHrr gay woman's guide and social networking app?