Ruzzle app problems on iPhone 5 continues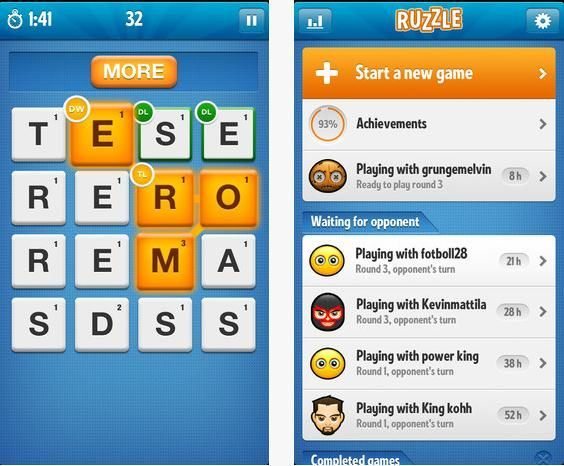 I would like to get something of my chest and call out to those that are playing the popular Ruzzle word game app on the iPhone 5, then again anyone playing the game on any device will do. I have only just installed Ruzzle onto my iPhone 5 because I was intrigued to see what all the hype was, and since doing so have had nothing but problems.
The Game
Ruzzle is very much similar to and Wordament but even more like Scramble with Friends, there is not much difference other than Ruzzle keeping records of wins and losses. In a way many are saying they stole the idea, around 25-million plus people are playing this game right now and is one of the fastest word games on the market.
You can challenge Facebook friends, Twitter followers, Ruzzle friends or random opponents. This is a game where you need to be very quick by finding the most words in just two minutes, you will see random letters on the screen and you have to swipe over them to make as many different words as possible, can you see now why it is basically the same as Scramble with Friends.
Granted, the game has nice audio and animations and it does have the buzz factor when trying to play 3 rounds where you have to get the highest total number of score to wins. The game is awesome there is no doubting that, but the build is totally painful and here is why, please read on and yes I promise to be brief.
The Problem
I installed the Ruzzle app on my iPhone 5, and after doing so it asked if I wanted to login in using my Facebook account and that is what I did, soon as I hit the login with Facebook the app closed on me so I opened it up once more, this time all is working. I clicked on the start a new game and yet again the app closed, once back in I chose to play with a Facebook friend and I chose one only for the app to close again. I decided you know what I will try a Twitter follower and that seems to work fine, so I tried a Facebook friend again and it worked fine for about 30 minutes and then when I tried to play a friend again it shut on me, personally I am going back to Scramble with Friends because it is basically the same game anyway.
Please do let us know if you are experiencing problems with your Ruzzle app, if you are please let us know what device you are playing it on? Thanks