iPhone 5 LifeProof Frē case engineered to protect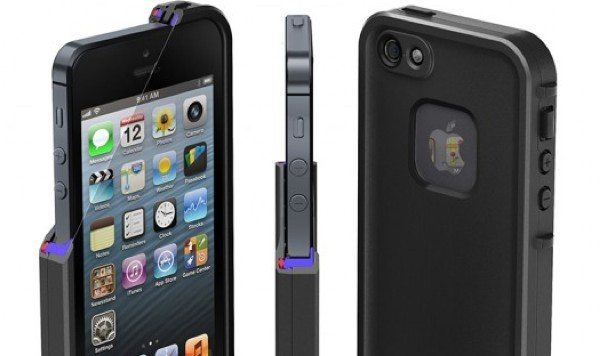 If you've just purchased a new Apple iPhone 5 then you may well be willing to splash out a bit more for a decent case to give you peace of mind. The iPhone 5 LifeProof frÄ" case is super advanced and has been custom engineered to protect your phone and optimize the functions and features of your phone. Although it offers rugged protection it's also light and thin so should appeal to everyone who wants to keep their phone looking its best.
The LifeProof frē iPhone 5 case is water proof, dirt proof, snow proof and shock proof so offers all around protection from the bumps, impacts and bruises of everyday life as well as the elements. It offers accessibility to functions, buttons, controls and ports such as the headphone jack and charge port while also protecting them, protects the speakers and microphones and even improves speaker sound. The back has a clear window so the Apple design of the iPhone 5 still shines through.
Independent lab tests showed the LifeProof frÄ" case achieved military standards for shock and impact protection and therefore the case has an IP-68 rating for protection against water, dirt and snow. Before shipping the cases are also water-tested at the factory and is water proof and submersible as far down as 6.6 feet/2 metres. It's also shock proof to Military Standard 810F-516 so should be able to tolerate drops of up to 6.6 feet /2metres.
Features of the LifeProof frē case include CrystalClear double anti-reflective coated camera-grade glass lens, the LIfeProof ClearVoice system and also the patent-pending Sound Enhancement System. Despite its protective abilities though, the LifeProof frē case is sleek and elegant adding only 1.5mm of thickness to the build of the phone. It weighs just 1.05 oz/ 29.8 grams.
This case comes in black or white color options and is priced at £72.09 with free shipping throughout Europe. In the box you'll get the LifeProof frÄ" case for the iPhone 5, a cleaning cloth, headphone adaptor and also a headphone jack cover keeper. You can purchase it in various retailers or head to this LifeProof product page to see more or order online.
We'd like to hear your thoughts on this iPhone 5 case. Do you think the price is fair considering the amount of protection it affords your phone? Will you be ordering the LifeProof frÄ" iPhone 5 case? Send your comments on this.