iPhone Mailbox app in gimmick vs solution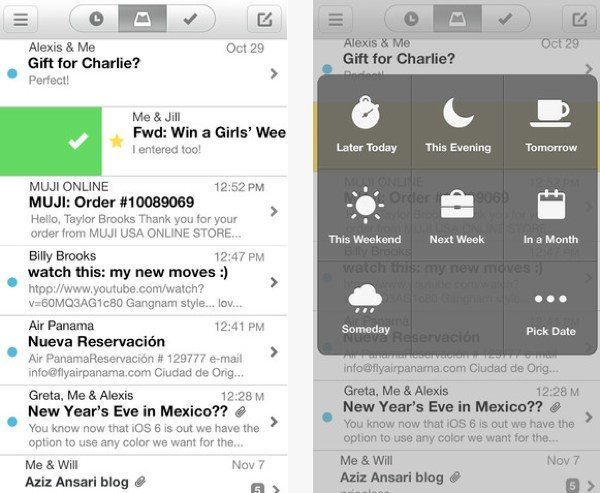 We always enjoy bringing readers news of new apps especially when they are as useful as the iPhone Mailbox app. Many of us are now looking for an organized email solution and some of us may have tried a few before. Mailbox for iOS might be the best answer there is so far in the way of a simple and quick tool to keep on top of your email efficiently.
This app is targeted at the heavy email user but it really doesn't matter if you don't find hundreds of emails in your inbox every morning. It has an uncluttered interface and the inbox makes use of touch gestures with quick swipes archiving a message while a slower swipe deletes it for example. Alternatively a left swipe enables the user to save the mail to organize it at some future point. There's also a search bar evident throughout the app and you can add multiple email accounts although at present it's only Gmail, with other platforms to come later.
Mailbox for iOS uses the cloud to check your emails and following this they are sent securely to your inbox. Push notifications are also available for when new messages arrive. You can find Mailbox by Orchestra, Inc., at this iTunes link. This productivity app is free and compatible for iPhone 3GS, iPhone 4, iPhone 4S, iPhone 5, iPod touch (3rd, 4th and 5th generation) and iPad running iOS 6.0 or later. The app is optimized for iPhone 5 but when you see it in the App Store you will see a rather unusual message under the app description.
You will need to download the app to reserve a spot and these reservations are then filled on a first-come, first-served basis. You will need to wait in line then and watch as it gets to your turn to receive the benefits of Mailbox. You can see an explanation for this and how Mailbox is being rolled out at this Mailbox webpage.
We'd like to ask readers though if you think this idea of reservations for an app is a gimmick, or maybe you still think it's your ideal email solution? Will you be heading to the App Store to wait in line for Mailbox? Let us know with your comments.