16GB iPad 3 $299 via Target at select stores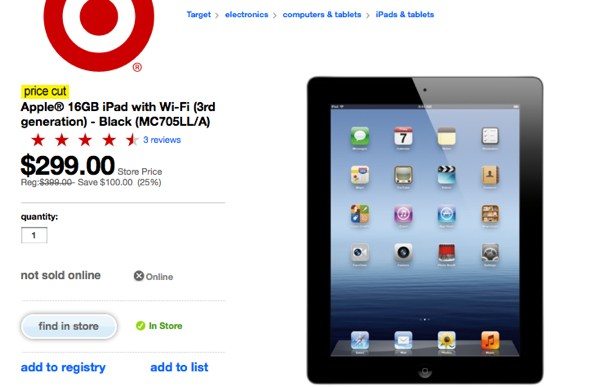 If you're after an Apple iPad and want to save yourself some money then an offer right now at Target may be of interest to you. The offer involves the third-generation iPad (aka iPad 3 or new iPad) that released last March and was replaced later in the year with the iPad with Retina display (iPad 4). Now the 16GB iPad 3 with Wi-Fi has been cut to $299 via Target at selected stores.
The iPad 3 was discontinued with the announcement of the iPad 4 in October but still features a Retina display and so this offer from Target is quite appealing. If you take into account that the iPad 2 is still available from Apple at $399, $100 more than this iPad 3 offer, then it's even more appealing. Another factor to take into account is that refurbished units of the iPad 3 from Apple currently cost $379 so the Target deal for a brand-new one is $80 cheaper than a refurb.
The Target offer applies to the 16GB iPad 3 with Wi-Fi but only in the black color option and the other thing to note is that this deal is not available online so you'll need to track one down in-store. As the iPad 4 was pretty much a specs-bump to the iPad 3 and is currently priced at $499 for the 16GB model with Wi-Fi, then $299 for the iPad 3 is an attractive price.
As a reminder of iPad 3 specs it has a dual-core A5X processor, quad-core graphics, a 9.7-inch Retina display with resolution of 2048 x 153 and a 5-megapixel camera. We've heard mixed rumors of a timeframe for the release of the iPad 5 with dates as early as March and as late as October so we'll steer clear of trying to advise you when the next iPad will arrive. For now though this Target iPad 3 offer seems pretty good to us.
You can see full details of the deal at this Target product page but remember it is not sold online so you'll need to head to your local store. One more thing to add is that there are no details of how long this offer will last and at this price stocks will probably sell quickly so if you want to take advantage of this discounted price you may well want to hotfoot it to a store soon.
Are you impressed at the iPad 3 with a price of $299? Maybe you've already purchased one from Target at this price? We always welcome your comments so do feel free to send them to us.