Nokia Asha alternative Samsung REX range launched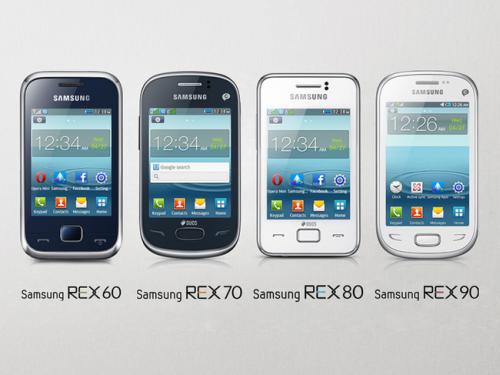 While there are a growing number of flagship smartphones being released by various companies, cheaper handsets are still big business and now Samsung has launched the REX range of feature phones for India that will over consumers an alternative to the Nokia Asha series of handsets.
There are four handsets in total in the new range called the REX 60, REX 70, REX 80, and REX 90 that are priced starting at Rs. 4280 going up to Rs 6490. The cheapest model is the REX 60 that has a 2.8-inch QVGA touchscreen display with dual SIM support and a 1.3 megapixel camera, and there is only 30MB of built in memory but this can be expanded via microSD card.
The REX 70 goes up to a 3-inch QVGA display with a two megapixel camera, dual SIM card support and other features similar to the REX 60, while the REX 80 adds a three megapixel camera and Wi-Fi connectivity to the mix.
While the top of the range is the REX 90 and features a 3.5-inch HVGA display with a 3.2 megapixel camera, 10MB of memory with microSD card expansion, dual SIM support, Wi-Fi 802.11b/g/n, and like the other handsets a 1000 mAh battery.
All four handsets feature a number of preloaded applications that also include social networking sites Facebook and Twitter, and all the models have Samsung's own operating system along with the TouchWiz UI.
Samsung states the handsets were developed in India and will eventually find their way to other emerging markets. To find out more about the new range of Samsung phones click here.