Sprint heavily pushes Buyback program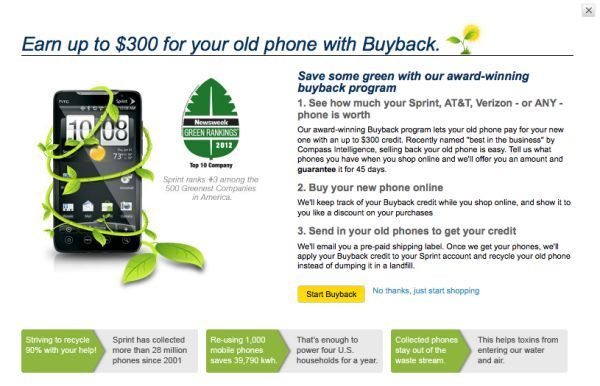 There are many ways to make the world greener and environmentally friendly, and now Sprint heavily pushes its Buyback program that allows you to grab that old or new phone that you no longer want in return for money.
You can get some more money by sending in that unwanted smartphone, and the good thing we love the most is the fact Sprint will take most phones on different carriers such as AT&T, Sprint, T-Mobile, Verizon etc, this Buyback program is also great because say your old phone does not qualify for a Buyback credit they will still recycle it.
Sprint are striving to recycle 90% with customers help and since doing so they have collected more than 48 million phones since 2001, and the carrier reuses 9 out of every 10 devices collected, which saves 39,790 kwh, which is enough to power four U.S households for a year, as well as helps toxins from entering the water and air.
Selling back your phone to Sprint on the Buyback program is very simple to use, when we visited Sprint's homepage we had a pop up window show up promoting this Buyback program, all you need to do is visit this dedicated page and follow the on-screen instructions.
Click on the dedicated link above and then select the carrier, then choose a manufacturer, then the model, after doing these simple steps it will show you the Buyback credit amount. Here is an example of a search we carried out, we chose the AT&T 32GB Apple iPhone 5 and Sprint will pay out $318.00 on the Buyback credit program.
Please do let us know if you have used the Sprint Buyback Program, if you have used we would love to know how much you got for your smartphone. Please remember to let us know what carrier, model etc the handset was and how much you got.