Alcatel One Touch to shake-up smartphone industry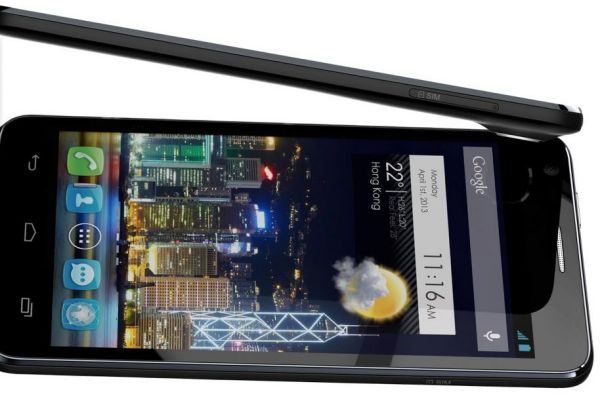 Alcatel One Touch will be launching 13 new smartphone handsets at MWC next week, including new models that have never been seen before by the public. The new smartphones will make their first appearance at Pepcom on Sunday evening and will be on the Alcatel One Touch booth throughout the conference (Hall 6, Aisle D, Booth 6D30).
Phones Review are unable to attend Pepcom at MWC 2013 this year but we will be reporting on all the news they announce. It is such a shame we cannot join the Pepcom Party Recovery Breakfast on the stand from 9am Monday morning. There will be Interviews with Alcatel One Touch CMO Dan Dery for a lucky few in the lead up to MWC and from 10:30am on Monday morning at the Alcatel One Touch stand.
The image above is one of the new handsets that will be announced, looks fantastic. TCL Communication, designer and manufacturer of One Touch branded smartphones, is set to enter the smartphone arena, pulling the industry in a brand new direction. 2013 marks the year smartphones cross over to a wider market, led by Alcatel One Touch who will deliver a suite of smartphones in a straight up manner. The big news at Mobile World Congress won't just be about what'sinside the phone, but about who is set to own the phone.
This industry shift will be driven by Alcatel One Touch's fresh approach to smartphone marketing and a company mission to bring the latest smartphones to a wider market. They will be delivering high-technology with a high street attitude. Dan Dery, Chief Marketing Officer at Alcatel One Touch says its accessible approach will redefine the smartphone category. The ONE TOUCH smartphones are making great quality smartphones accessible to everyday people.
You shouldn't need a PhD in computer science to make a choice about your phone.
The revolution starts at Mobile World Congress (Barcelona 25-28 February 2013), where Alcatel One Touch will launch an easy-to-choose, easy-to-use suite of 13 smartphones. The suite offers something for everyone in a straight up manner, from phones chosen with less effort than a pair of jeans, through to high-quality phablets everyday families will be inspired to create on.
The new smartphone business model is tipped to deliver Alcatel One Touch a notable rate of business growth in 2013, faster growth than the industry and many competitors.
Dan Dery continues, 'We invested heavily in innovating our smartphone business in 2012 — innovating our product line, our business model and our proposition to deliver the best products for our consumers. The innovations team has delivered a suite of 13 phones that offer unprecedented high-quality, high-value features. Now, we are working with our ever-expanding circle of global partners to deliver these phones in an approachable format.