Haven iPhone 5 case for those with money to burn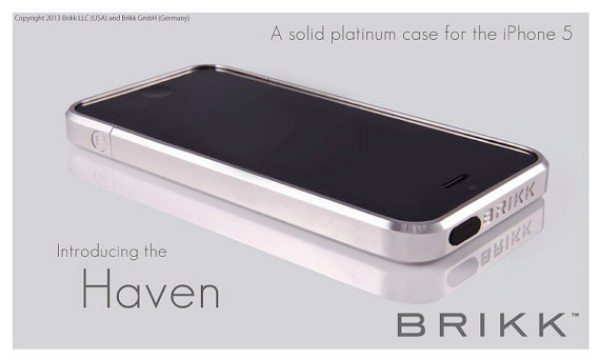 Okay, so when we get a shiny new device many of us want to look after it with a good case. In that case if you have the latest Apple iPhone you may be interested in this Haven iPhone 5 case from Brikk, but only if you have money to burn. We're not kidding either as this line of luxury designer cases has a starting price of over $11,000!
To be honest it's not even a full case but more of a bumper but it does come in various colors, depending on what shade of metal you prefer. Choose from Pink Gold, Yellow Gold, or Platinum, the most expensive. The case frames are made from a single piece of pure titanium and then coated with gold or platinum and if you're wondering if it will actually offer any protection to your iPhone 5 then they also feature a shock absorbing silicone gasket system.
The 'lowest priced Haven case is $11,610 and this rises to $14,235 or even more. You'll get 75 grams of gold in the Yellow Gold options or 100 grams of gold in the Platinum edition. As well as this Brikk will also offer made-to-measure cases such as Black Carbon or Gray Stealth and if your choice is to stud them with diamonds that option is open to you as well.
If you're wondering whether you should splash that much cash on an iPhone case then there's consolation as some money from each sale goes to charity in Africa to feed hungry children. Of course you could always spend $20 on an alternative simple case and donate $11,000 to the charity of your choice anyway. Just saying!
If you're interested in finding out more about the Haven iPhone 5 case then head to the Brikk's Etsy store here. Prices include free US shipping. Are you tempted to treat yourself or someone you love to one of these Haven iPhone 5 cases? Maybe you think anybody who does buy one has more money than sense?
Via: Cult of Mac