iPhone 5 vs Huawei Ascend P2, review of specs compared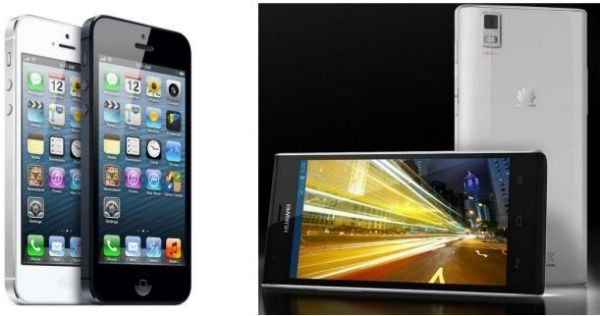 There are two smartphones that are very close in the specs corner, and they are the iPhone 5 and the Ascend P2. It is fair to say that Apple and Huawei will be rivals. Below we will take a quick look at the iPhone 5 vs Huawei Ascend P2 review of specs compared.
Earlier on today we gave you the full run down on specs for the Huawei Ascend P2 and this is one of the closest handsets that can go side-by-side with the iPhone 5 in the way of specifications.
The iPhone 5 is 7.6mm and the Huawei Ascend P2 is a little thicker at 8.4mm, the rest of the specs are as follows with the first being iPhone 5 and the second being the Huawei Ascend P2; 4-inch LCD / 4.7-inch LCD, 1136 × 640 pixels / 1280 x 720 pixels, when it comes to built-in storage the iPhone 5 has 16/32/64GB versions and the Ascend P2 only has 16GB, one runs on iOS 6 and the other runs on Android 4.1.2 Jelly Bean.
The iPhone 5 has a 1.2 GHz Dual-core A6X processor and the Ascend P2 has a 1.5 GHz quad-core processor, this means the Huawei is faster. Both handsets have 1GB RAM. On the camera from the Apple smartphone has 8MP on the rear and 1.2MP on the front compared to 13MP and 1.3MP, looking good for the Huawei Ascend P2 so far.
iPhone 5 – Huawei Ascend P2 (Specs Respective): 1440mAh compared to 2420mAh, Lightning connector charger / Micro USB, the sound on the P2 will be better thanks to the Dolby Mobile Plus sound enhancement, the P2 has 315 ppi and the iPhone has a marginally better 326 ppi.
The screen is easier to use on the P2 if you are wearing gloves, if you purchase both phone off contract then the Huawei Ascend P2 is cheaper at €399 unlocked, the P2 will not be available for those in the US. This is the case of "Do you want a great phone on Android or iOS?" both are great smartphones but specs wise the P2 just pips it.
Would you choose the Huawei Ascend P2 over the iPhone 5?