Official Nexus 7 dock has landed in Google Play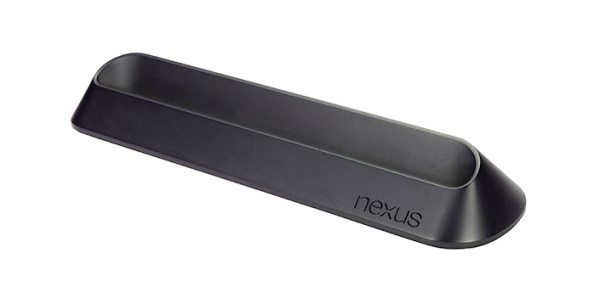 The Google Nexus 7 tablet by Asus has been a smash-hit since it released last July running Android Jelly Bean. We've been bringing you plenty of news about this popular device regarding updates, accessories and more but many of you may have been wondering what happened to the official dock accessory. The good news today is that the official Nexus 7 Dock has finally arrived in the Google Play Store but you might want to hurry as we think this will be an in-demand accessory.
We were originally expecting this dock accessory to release last year and then heard rumblings of a January arrival but the Nexus 7 dock still managed to elude us. Just when we had stopped thinking of it the dock has now appeared in the Google Play Store where it's priced at $29.99 or £24.99. At the moment customers are only able to order up to 2 dock units per person.
The dock uses Pogo pins to charge the Nexus 7 and also acts as an audio output using a 3.5mm jack on the back of the dock. In the US Google Play Store the dock is currently showing with a shipping time of 1 to 2 weeks, although this is just a guide and it could arrive sooner. We've just checked the UK Google Play Store and the Nexus 7 Dock is also listed there with the same shipping time of between 1 and 2 weeks.
The dock is not only practical but looks good too with a rubberized base to stop it sliding about and angled for optimum viewing. It comes in black, measures 220mm x 64mm x 30mm and weighs in at 280g. We think the price is pretty reasonable for the quality of this accessory and are interested to know what you think?
Will you be ordering the official Nexus 7 Dock from Google Play? Send us your comments on this.
Source: Google Play Store