Thermodo brings a thermometer to a smartphone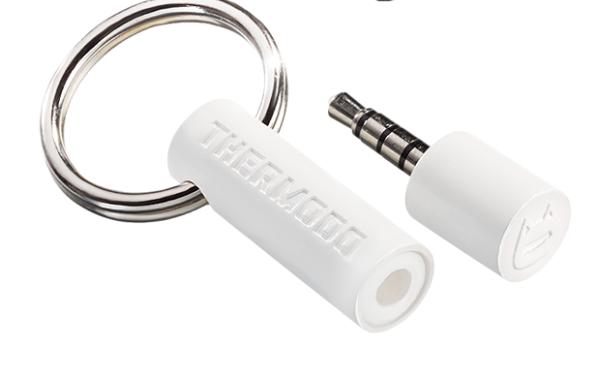 There are numerous applications for modern smartphones that provide us with detailed information about the weather, but so far there hasn't been as much to tell us the current temperature where we are. Now though a new gadget called Thermodo will bring a thermometer to a smartphone.
Thermodo is a tiny non-mercury thermometer that connects to the 3.5mm headphone jack on your handset, and is another product that is on the Kickstarter project. The unit works by allowing the smartphone to read an audio signal, which will be adjusted depending on the actual temperature that is calculated and displayed on the handset.
The unit is plugged in and works alongside the Thermodo application with a reading given instantly and the product doesn't require any additional power and can run in the background. It will work either inside or outside and no Internet connection is required and comes with a clever keyring so you can always have the Thermodo with you.
During testing the Thermodo has been found to have a range of -20 °C to +50 °C (-5 ºF to 120 ºF), and the project has managed to raise $22,511 so far out of a target of $35,000 with still another 33 days to go, and to find out more about the gadget checkout the video we have embedded below or hit the link above.
Do you like the idea of the Thermodo?