LG Optimus G for Sprint Jelly Bean 4.1.2 update ready to grab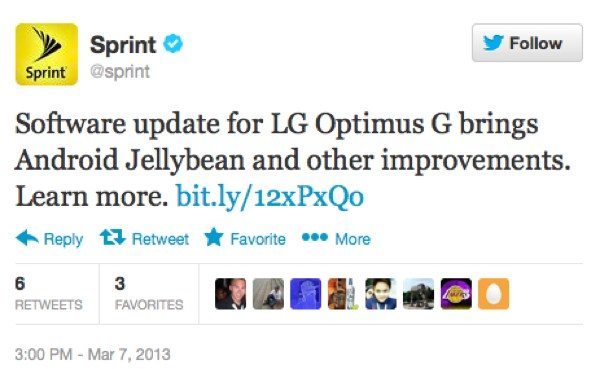 For those of you who own the LG Optimus G on Sprint then there's some excellent news today as the official Android Jellly Bean 4.1.2 update is now ready to grab for your device. Just over a week ago we told how there was some movement in the right direction for those of you waiting for your first Jelly Bean flavor to arrive as it seemed to be being tested. Now we can tell you that Sprint has officially announced that the update is finally being pushed out.
This is an update that is well worth having for your Optimus G as it brings plenty of changes and improvements. It brings your Sprint Optimus G to Android 4.1.2 Jelly Bean version LS970ZVA and along with it come a plethora of delights such as Google Now, expandable notifications, Android Beam, smoother UI, user-installable keyboard maps, enhanced voice search, better camera app and much more.
It also brings users the ability for other launchers to add widgets from the app drawer with no need for root access. Sprint announced the arrival of the update via Twitter yesterday tweeting, "Software update for LG Optimus G brings Android Jellybean and other improvements. Learn more." You can see more details about the update at this Sprint community page.
If you're a Sprint owner of the LG Optimus G then this update may have seemed a long time coming but we think you'll feel it was well worth waiting for. Have you already updated to 4.1.2 Jelly Bean on your Optimus G? If you have then we'd be interested to hear what you think of the OS upgrade so please do send us your comments.