Samsung Galaxy S4 countdown with purported sexy renderings
In less than a week's time the world will be able to officially see the next flagship smartphone from Samsung over in New York, and today we have some sexy renderings of the Samsung Galaxy S4 as the countdown to the device continues.
The design and specifications of the Galaxy S4 have been rumoured about for a number of months now, and we now have some great design ideas for the handset courtesy of Concept Phones. The first one we have for you is from designer Shaik Imaduddin, who not only imagined a squarer design, but strangely placed the front camera at the bottom of the handset.
Other than that there is a 5-inch Full HD Super AMOLED screen with the Exynos 5 Octa processor under the hood with 2GB of RAM and 64GB of storage, and the idea behind the design was to combine the Galaxy S3 with the Galaxy Note 2.
Camera wise there is a 13-megapixel rear shooter with a 2-megapixel unit on the front, and you won't find any keys on the handset as everything will be controlled by gestures. A simple tap of the display will take you to the home screen, while a swipe left will go back and up for recent apps.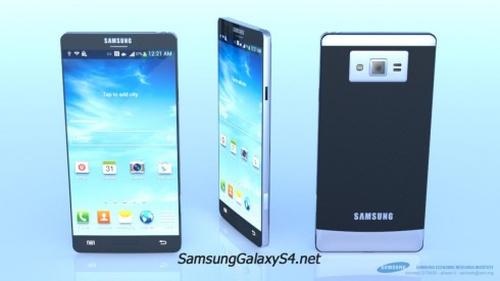 The next design originates from a Dutch website and sees the Galaxy S4 using an edge to edge display in another squared off handset. This would be manufactured from a metal frame going around the device, with the back made from a reinforced plastic.
Other features include a 4.99 Full HD display with the same Exynos 5 Octa processor along with 2GB of RAM and a 13-megapixel rear facing camera.
Do you think the Galaxy S4 will look similar to these designs?