Nexus 4 white version still possible as bumper appears in the flesh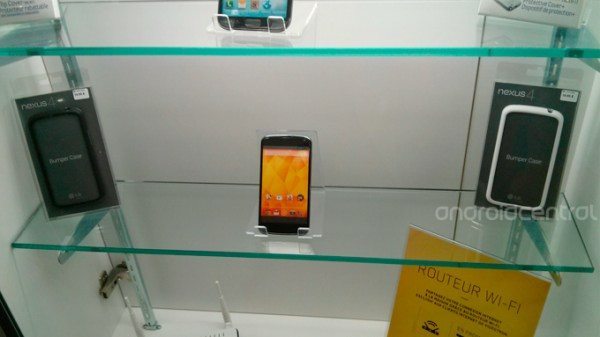 The Nexus 4 is an extremely popular Android smartphone and almost since its release last year we've been hearing rumblings that it may become available as a white color option as well as the black version currently available. The mystery of the Nexus 4 in white is still ongoing and we've been documenting the saga, which takes a new twist today as a white bumper case for the Nexus 4 has now been spotted in the flesh.
We'll give you a brief recap of the story so far. In November a white version of the Nexus 4 smartphone briefly made a listed appearance on a UK retailer product page. We then saw a phone operator list a Nexus 4 White bundle and then saw a leaked photo claiming to be the Nexus 4 in white, although there was no way of verifying this. Despite all of these 'sightings' the Nexus 4 white version of the handset never actually turned up available for sale.
Following this though we told last month how a Nexus 4 bumper case in white had now been listed on a Canadian retailer website and even had a price of $24.99 listed. It seemed to us highly unlikely that a white bumper case would become available for the Nexus 4 if it was only to stay available in the black color option and also as accessories sometimes appear before the actual device it looked quite promising that a white Nexus 4 was now on the way.
However the white bumper case has never appeared at the Google Play Store where both the black phone and black bumper are available for sale. There has now been a further sighting though that definitely indicates the Nexus 4 in white is coming as now the white bumper case for the Nexus 4 has actually appeared in a retail store in Canada, not just listed, but the real white bumper, packaged and ready for sale.
The Nexus 4 white bumper appears next to a black bumper at a Videotron, Montreal store and is priced at $19.95 so we at last have authentication that the white bumper for the Nexus 4 is real. Of course this doesn't prove a Nexus 4 in white will also become available but the idea of a white bumper on a black Nexus 4 still seems an odd idea to us, unless that's just us?
We'd really like to hear your thoughts on this. Are you hoping the white bumper for the Nexus 4 comes to other outlets? Do you, like us, feel this indicates a white Nexus 4 handset is likely at some point? Maybe you feel it's unlikely that another Nexus 4 color option will arrive now and that a white Nexus 4 will always be elusive? Let us have your comments on this.
Source: Android Central