Mystery Motorola phone on video, not thought to be Motorola X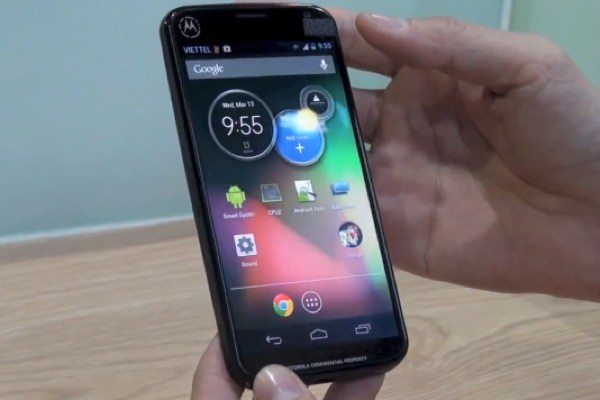 We've been following all of the leaks and rumors regarding the enigmatic Motorola X phone, sometimes also dubbed the Google X phone. Today we have news of a mystery Motorola smartphone video showing an unknown device and when we first heard of this we hoped it might be the Motorola X. However all the signs are that it is not the X Phone but if not, then what is it?
The video comes from well known source Tinhte who managed to get their hands on the phone and shared it via YouTube. They too hoped it might be the Motorola X at first but after seeing and inspecting the unknown device, came to the conclusion that it's not likely to be. The video shows a smartphone with ultra-thin edges, with a curved back and black finish and a model number of XT912A. This implies that rather than the Motorola X it could instead be another in the Droid RAZR family as that phone has the model number XT912.
The mystery device also has Adreno 320 GPU, approximate 4-inch 720p display with 320 ppi and 2GB of RAM. It's thought that the processor is a Qualcomm Snapdragon S4 Pro or higher and the device also has a 2,200 mAh battery. While the specs of this unknown phone don't quite match those leaked for the Motorola X it's nevertheless a decently equipped device.
Specs leaked so far for the Motorola X phone include a 5-inch full HD display and 10-megapixel rear camera (previous rumors said 16-megapixels). It's also thought it will release running the Android 5.0 Key Lime Pie operating system. We're hoping to see the Motorola X phone revealed at Google I/O in May and who knows, we may even find out what the phone in the video is too. We'll keep tabs on this mystery Motorola device and also of course the Motorola X phone and will keep you up-to-date with further developments.
You can see the 4-minute video of the unknown Motorola phone below this story and while you may not understand the language you can at least see the actual device for yourself. Why not take a look and let us know what you think of the XT912A by sending us your comments. Do you like the look of this smartphone? Are you pleased or disappointed that this is not thought to be the Motorola X phone?
Source: Tinhte (Google Translated)