Top 5 BlackBerry Z10 protective cases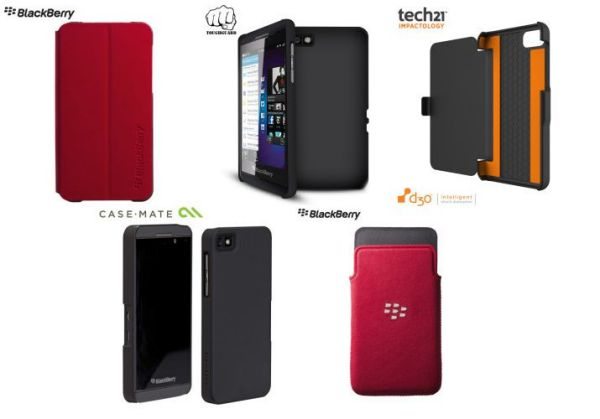 Good morning folks! Today, we're going to be looking at the best protective cases available for the BlackBerry Z10. These cases provide the best possible protection against scratches and impacts, ensuring that your Z10 looks as good today as the day you took it out of the box. Let's get right into it, shall we?
5. ToughGuard Shell Case
This protective case is made from a strengthened polycarbonate material that's durable and resistant to common dangers. The ToughGuard has a stylish and slender design, albeit one that doesn't stray too far from the ordinary. This is a good all-around option that provides good protection without adding too much bulk.
4. Case-Mate Barely There
The Case-Mate Barely There is the thinnest option on this list, offering the bare minimum of protection while still ticking all the boxes. The Barely There's incredibly svelte frame looks great too, making this also one of the most stylish cases on the list. If you hate big and clunky cases, then the Barely There is the one for you.
3. BlackBerry Z10 MicroFibre Pocket
One of BlackBerry's own cases, this MicroFibre Pocket has a unique form factor compared to others on the list. The case is only for use when your phone isn't in use, like when it's in your pocket or bag. By choosing the pouch form factor, you'll get complete and comprehensive protection of the phone, including the most vulnerable element: the screen. And that's without using a dedicated BlackBerry Z10 screen protector.
2. Tech21 Impact Snap Case with Cover
This case utilises advanced technology to provide surprisingly efficient anti-impact protection. The case uses the proprietary D3O material, which exists as a soft putty normally but instantly hardens when exposed to force. That makes it excellent at soaking up the hits despite being quite thin. This case also comes with a flip-around cover to ensure that the screen stays protected too.
1. BlackBerry Z10 Flip Shell
This official Z10 accessory acts like a small version of Apple's Smart Cover. It folds in the middle, allowing it to be flipped to the back and used as a very space-efficient stand. The Flip Shell looks great too, with thin plastic cladding around the phone itself adding to its protective capabilities. For sheer ease of use, this Flip Shell is rated highly.
Conclusion
I think that's all the time we have for now. Thanks for reading the article! If you have any questions or comments about Z10 accessories, I'd be happy to field them via the comments below. Have a good one!