Samsung Galaxy S6 futuristic look ahead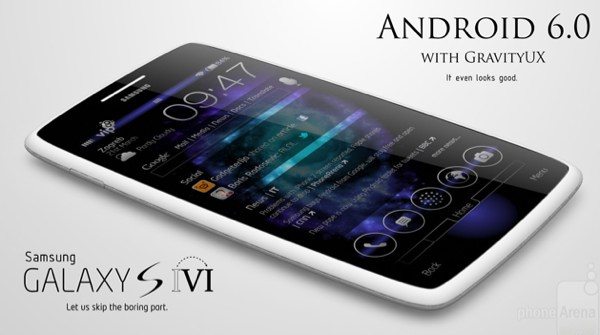 It seems that we're all on tenterhooks today waiting for the official Samsung Galaxy S4 announcement from the event in New York. However some people are already looking ahead to Galaxy S's of the future and today we have an intriguing Samsung Galaxy S6 look that's been conjured up with clever imagination.
The artistic designers of this concept Galaxy S6 decided to miss a generation and it's probably because they want to look at something more innovative and further down the line than the very next model and give us an idea of where the Galaxy S line could head in the years ahead. We enjoy looking at the odd concept idea, as it's always good to see what future products could look like.
This Galaxy S6 concept is purely about the design and the designers, Apple Conspiracy, give no specs for this idea. However you can probably come up with your own revolutionary ideas for what you'd like the Galaxy S6 to carry specs-wise. The design has a display size of around 4.5-inches with larger than usual edges around the screen (against the trend for edge-to-edge displays).
It also looks extremely slim as you can see in the image above and rather amusingly, although this is a futuristic Galaxy S phone it's still made of the traditional Samsung plastic. This is something that Samsung Galaxy S phone owners would like to see changed and usually attracts some criticism because of the cheap look and feel but the designers assert that plastic is really not so bad. They point out that this Galaxy S6 might be plastic but would have a Hyperskin protective nano-coating.
Intriguingly there's no audio jack or charging terminals and this is because it's anticipated that by the time we get to the Galaxy S6 everything will be wireless. We really like the look of this concept Galaxy S6 and are really interested to find out what you think of it? You can see more renders in a slideshow at the source link below. Would you like the Galaxy S6 to look like this? Send us your comments on this. Meanwhile you might be interested in the Galaxy S4 event today and we have details of times and live streaming.
Source: Phone Arena