HTC One vs Samsung Galaxy S4: The Winner is!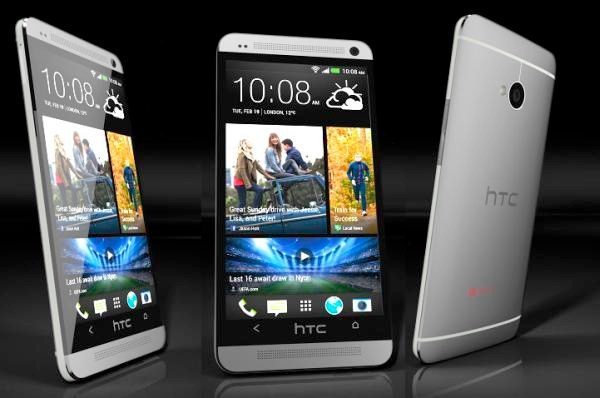 Here at Phones Review we can get a little wrapped up in the tech world and to us it almost felt like the whole globe was watching the Samsung event last night that finally introduced the Samsung Galaxy S4. Now the phone is official at last with confirmed specs we thought we'd take a look at the HTC One vs. Samsung Galaxy S4 as these are both exceptional handsets and credible competition against each other. We'd like to hear which one you think is the winner of these two flagship devices.
The HTC One was made official last month and is set to release any time now although there have been recent reports it may be delayed for a short time. Now that the Samsung Galaxy S4 specs have also been confirmed, with a release in April, it's time to compare the key factors of both phones. Of course it's not possible for us to compare every single specification and feature but hopefully you'll find enough here to give you a good idea of what each phone has to offer.
Processor
The HTC One is powered by a 1.7GHz Qualcomm Snapdragon 600 quad-core processor while the Galaxy S4 has either a 1.6GHz Exynos Octa-core processor or a 1.9GHz Qualcomm quad-core processor (dependent on market). Any of these will do a fine job for these smartphones.
Display
You'll find a 4.7-inch Super LCD3 full HD display with resolution of 1920 x 1080 and impressive 469 ppi on the HTC One, also featuring Corning Gorilla Glass 2. The Galaxy S4 has a 5-inch Super AMOLED full HD display with resolution of 1920 x 1080 and 441 ppi and this time incorporates Corning Gorilla Glass 3.
RAM and Storage
The HTC One has 2GB of RAM and 32 or 64GB internal storage options (non-expandable). You'll also find 2GB of RAM for the Galaxy S4 and options of 16, 32 or 64GB internal storage (expandable via microSD to 64GB). This is one category where the expandable memory of the Galaxy S4 will win over some purchasers.
Camera Set-up
The HTC One has a 4-megapixel rear UltraPixel camera with autofocus, LED flash and 1080p video capture and also a 2.1-megapixel front-facing camera. The Galaxy S4 has a 13-megapixel BSI AF rear camera with autofocus, f/2.2 aperture and 2-megapixel BSI front-facing camera with dual-video capture mode. We haven't room here to list all of the camera features but they are both impressive. However we should point out that megapixels aren't everything so don't be put off by the 'just' 4-megapixel UltraPixel camera of the HTC One as this is said to be excellent especially in low-light conditions with each pixel harnessing 300% more light than usual camera sensors.
Battery
There's a non-removable 2,300 mAh battery for the HTC One while the Galaxy S4 steps it up to a 2,600 mAh removable battery.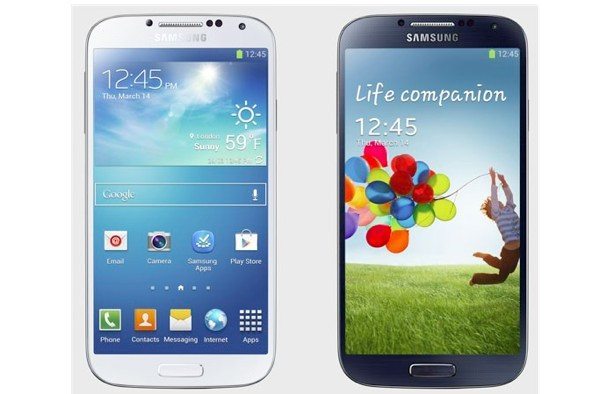 Operating System
Android Jelly Bean is the order of the day and the HTC One will release on 4.1.2, upgradable to 4.2.2 with HTC Sense 5.0 user interface. The Galaxy S4 however will launch running 4.2.2 Jelly Bean with Samsung's TouchWiz UI.
Dimensions and Colors
The HTC One measures 137.4mm x 68.2mm x 9.3mm, weighs 143g and comes in black, silver or red color options. The Galaxy S4 manages to pack a lot in and yet is still slimmer and lighter. Dimensions of the S4 are 136.6mm x 69.8mm x 7.9mm, it weighs only 130g and will initially come in black or white with more color options to follow later.
Both of these phones come with Wi-Fi 802.11 a/ac/b/g/n, LTE connectivity (where applicable), Bluetooth 4.0 and NFC support. Of course it's not all about the hardware but the Galaxy S4 software seems to have everyone talking as some great new features have been introduced. One of the main features of the HTC One is BlinkFeed that gives the user an aggregated feed of their chosen news and social sources. There's also the Live Gallery, a new music player, HTC Watch, the Zoe camera feature and more. The Galaxy S4 has the Drama Shot camera feature, Air View that works with your finger, Smart Pause, Smart Scroll, Group Play, S Health and much more.
As you can see from these key factors both phones are notable top-notch devices and have a huge amount to offer to consumers so much of your choice may be down to the look and feel of the two phones, very much a personal preference. Pricing has not yet been announced for the Galaxy S4 but we can't imagine there will be a lot of difference between the HTC One price and that of the Galaxy S4 as both have such high-end specs. Making a choice between these two smartphones is not easy as they are both truly notable devices and that's where you, the reader, comes in.
You may have thought you were going to purchase the HTC One but made the decision to see what the Galaxy S4 would come up with first? If you had the ability to get your hands on either of these phones right now, which one would you choose and why? Let us have your comments as we're really interested to find out the winner of these two devices as far as readers are concerned.