The Pope App for Android & iOS, a sign of modernity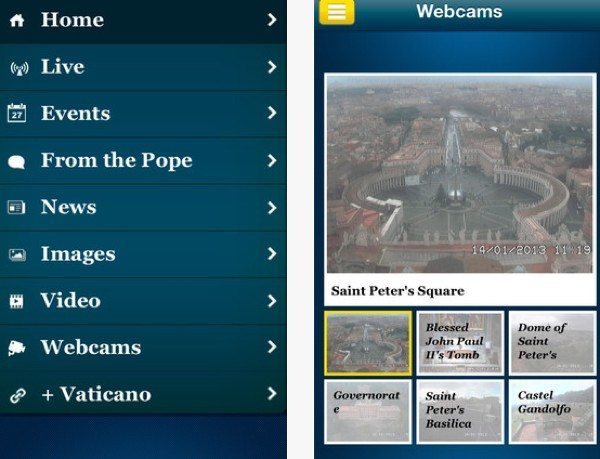 There's been a lot excitement over recent weeks for the Catholic Church regarding the selection of a new pope. Cardinal Jorge Mario Bergoglio of Argentina was eventually chosen and has taken the title of Pope Francis. It remains to be seen how the new pope will steer the Roman Catholic Church through modern times but there has been a further attempt to show signs of modernity with The Pope App, a mobile app for iOS and Android devices.
The Pope App is the official Vatican app and has been designed so that users can track all of the developments from Vatican City. The app was established quickly after only being developed once Pope Benedict XVI announced he would be retiring. The app offers video from Vatican TV, a Twitter feed and information about conclaves right back to 1061.
The Pope app by Pontificium Consilium de Communicationibus Socialibus is available at Google Play and the App Store and will allow the user to follow events involving the Pope and even set up alerts for when papal events are starting. Users can find news and speeches, image and video galleries, calendar access and other services and the app is really in the news right now and gathering excellent ratings.
The iOS version of The Pope App is free and compatible with iPhone, iPad and iPod touch running iOS 4.3 or later and has been optimized for the iPhone 5. It was updated to version 1.0.2 on March 4 bringing new photos and if you want more information or to download it then head to iTunes here. The Android variant of The Pope App is also free, is suitable for devices running Android 2.3 or later and was last updated on March 7. To download The Pope App for Android head to Google Play here.
We'd like to hear what you think about The Pope App. Do you use this app already and if so would you recommend it to our readers? Maybe you're about to try it out now. Send us your comments on this.