Oppo Find 5 officially wearing black from April 1st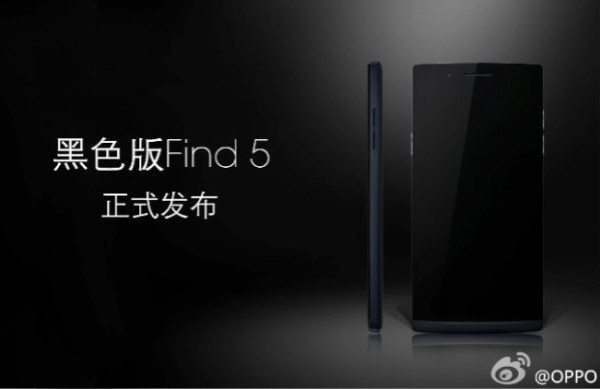 Many of you will already have heard of the Oppo Find 5 smartphone, a truly impressive handset with top specs and a beautiful sleek design. The original Oppo Find 5 for China was in white and looked beautiful enough and now Oppo Mobile has officially announced that from April 1st the Oppo Find 5 will be wearing black. We have an image here and we think you'll agree that it looks even more awesome all in black.
This has been teased in China for some weeks and today it was finally shown and we think will win over even more fans to the Oppo Find 5. The first official render (above) of the black Oppo Find 5 was unveiled today and it's reported that the phone will hit shelves in China on April 1. Apart from the color the black version is exactly the same as the current silvery-white option so we'll give you a refresh on specs.
The Oppo Find 5 has a 1.5GHz Qualcomm Snapdragon S4 quad-core processor, 5-inch full HD display with 441ppi, 2GB of RAM and 16GB or 32GB of internal storage (non-expandable). There's also a 13-megapixel rear camera with 1080p video capture, 1.9-megapixel front shooter, a 2500 mAh battery, Wi-Fi 802.11 a/b/g/n, Bluetooth 4.0 and it runs on Android 4.1 Jelly Bean. Dimensions are 141.8mm x 68.8mm x 8.9mm and it weighs 165g.
The price of the black Oppo Find 5 has not been announced yet but we'd imagine it would cost the same contract-free pricing as the white variant, that's around $499 for the 16GB model or $569 for the 32GB version. We are hoping that international customers will be able to order the black Oppo Find 5 from the online OppoStyle.com store. It can be used outside China on global GSM and WCDMA networks.
Do you like the look of the black Oppo Find 5? Will you be eagerly waiting for April 1? Let us know with your comments.
Source: CNMO (Google Translated)
Via: Phone Arena